Pam's Hawaii Travel Diary




June 10-19, 2002



I hadn't taken a decent vacation in over a decade, so I took the plunge and went to Hawaii. I had been once before in the 80s (assignment for a job), and always wanted to return. I decided early on that I would keep a journal of all the things that happened along the way. I took notes on my Palm VIIx and the

accessory folding keyboard

. This worked out great, since I could capture my thoughts anywhere and then I downloaded it all when I got home, ready for web use, the fruits of which you will see below.



Some of the pictures here were taken with my Palm (with a Kodak digital

Palmpix

attachment), but most were taken with my old-school Nikon 35 mm. A few of the images here were ripped from the web to add "color" to my descriptions of things. Hope you enjoy this long and sometimes weird adventure!

Note: Most scenic pix can be enlarged by clicking on them.



--Pam



Pix w/full diary (this page) | Mostly travel pix only



***




Day 1, part 1 - Travel Day




Monday, June 10



4:30 AM: Gave

Bailey and Red

a final goodbye -- oh I'll miss my babies -- and hear my ride at the door. Got to the airport at 5AM: Annette, my Old West Durham neighbor (and who's petsitting), graciously offered to take me. Checking in was a breeze compared to last Oct. (after 9/11). They had the new fed bag checkers working; it was much more professional than the chaos and ineptitude last year when I flew to NYC in October. I was wanded thoroughly, and one of my bags was checked/tested with a chemical swab. You had to show your ID before you could board.



I checked one large rolling bag --hope it makes it all the way to Hilo w/o incident -- had two carry-ons. One is a small duffel, the other a nice canvas shopping bag that zips. Both are packed tight with stuff. I wisely wore a fanny pack with my ticket and driver's license for easy access.





***





The flights -- Hawaii is 6 hours behind the east coast (w/daylight savings time). I have 4 flights, totaling 17 hours. Ugh.

Flight 1: RDU to St. Louis.
Uneventful. Had an aisle seat and sat about at the middle of the plane. My seatmate was a minister that drove to RDU from Wilmington for the cheaper fare. He said it is $400 more from his airport. He is attending some sort of conference. I slept on this flight, which was about 90 minutes. American only served bevarage on this flight; I passed.




Flight 2: St. Louis to LAX


About 3 hours and change. Seats were in a 2-3-2 config. I was in the first row of coach, with no seats in front of me. Aisle again. A 16 year old girl was in the middle seat. We didn't talk much. I Am Sam was the movie; I didn't pay for the headphones. I could get the drift by watching it. The "snack" was a bag with: yogurt, OJ, muffin and an apple. I ate the apple, and tried the muffin. It was sucky and had no taste. Had a diet Coke. Landed at

LAX

and it was a two-hour layover.
In LAX,

I was famished, so I headed over to the combo Starbucks and Burger King and had a chicken sandwich ($7!). On my way back to the gate, I saw this tall guy coming toward me and he looked vaguely familiar...it was

Conan O'Brien

. He was with 3 other people. That was the only celebrity sighting at LAX, lol. In the span of the 15 minutes I was in BK, I saw at least 5 obviously surgically-enhanced women (boob jobs), and 3 tanned, bleached blond, anorexic bimbo-types. They really are different in LA.
Flight 3: LAX to Honolulu
Another 767-300, with a 2-3-2 config. Another aisle seat, by the wing. My seat mate is an 18-year-old girl that just graduated and she is going back to visit family in Honolulu (she's been in Ohio) for the first time in a couple of years. This flight is about 5 and a half hours. I hope they serve real food at some point. The in-flight movie is The Shipping News. I don't think I'll pay for this one either. The pilot says that it's about 86 degrees in Honolulu. Food was roast beef/potatoes, w/green beans, salad w/olive oil dressing, a roll, and a brownie, which I gave to Melissa.
The landing was uneventful. Saw Pearl Harbor and the AZ memorial as we came in.
Flight 4: Honolulu to Hilo
It is quite humid here; the terminal has a lot of open atrium areas. Getting to the inter-island flight on Aloha Airlines was a pain (shuttle, ticketing, security). My shoes (!) set off the scanner, so they had to be X-rayed. Finally got to the gate. Have 45 minutes to wait. I am tired. This flight should be about 50 minutes. There's supposed to be a shuttle from Kalani waiting for me.
Ron from Kalani picked me up at the airport. Babette, one of the volunteers there, is making Thai food for us.
***




Day 1, part 2 - Arriving at Kalani




It's dark when we arrive, so I don't have a great look at the facilities. That will have to wait until morning. It's been raining off and on since arriving on the Big Island.





Ron takes me to the check in and to get the key to the room. We go to the Lanai dining area and eat. Apparently Ron is partners with Richard (Koob), the owner of Kalani. We eat, and then I am driven to the monkeypod tree house, room 22.
The good:
* the people are friendly. Ron and Richard and (?) Kathy at the front desk are very accommodating. They clearly want me to feel welcome.
* Location of my room: Room 22 has a view of the ocean and the horse pasture, though I will not see that until tomorrow. It is also near the yoga classes.
* Layout of the room: it is large, and has a futon and a wicker chair and sofa, there is also a desk and a small fridge.
The bad:
* my cell phone has no service here. It must be too remote here. That bothers me a lot, I would at least like call Tim (my brother), who's staying on the Kona side of the island.
* there is no phone in the room; the closest one is in the main office. I'll have to use my phone card to make calls.
* there is a gecko/lizard that apparently gets in the room; it had left poop in the bathtub, which Ron washed out. Great. Reptile night visitors.
Of course now, I have to think the unthinkable -- can I last 6 days here? It feels like if the bug situation doesn't improve that will really kill me ability to relax. The phone thing is also problematic for me. I don't like feeling stranded in any way.


* Bugs! There was a giant palmetto bug (aka fucking flying roach) in the bathroom. That nearly made me flee right there. Ron caught it though. Later, as I start unpacking my stuff to take a shower, I notice lots of flying bugs, mostly small ones that I don't recognize. I hope they don't bite. Let's put it this way -- I'm not taking my stuff out of the

Spacebags

. I am glad I have everything, even toiletries, in Ziplocs so I don't bring any "wildlife" home.



* No A/C. There is a fan, and there is a breeze, but I wonder what it is like if it is very humid and hot.
* Storming: around 9PM local time, it starts really pouring, and there is a tin roof, and it is deafening. I know I won't sleep, now. This weather needs to clear pronto, or I'll get no tan!
So, now I'll have to figure out how to go to bed. It's about 9PM and I am exhausted. I manage to fall asleep. Then the ants get in the bed and bite my legs.
Around 11, some people came in to the downstairs room and began playing (I think) an electric piano and singing. Not loudly, but it woke me. I began drifting off again and then I heard a "pa-dump, pa-dump, pa-dump" noise, quick like a cat scampering across the room. I think I'm dreaming and roll over. About 2 minutes later I hear the same noise. I sit up in bed and turn on the light. I have a flashlight, so I point it over to the right side of the room where the noise is coming from and I don't see anything. It has to be a gecko/lizard or something. I cannot see it though. All I know is if it gets on the bed I will be screaming. Why do I feel like I am on Survivor or something? I leave on the bedside light; this seems to keep whatever it is quiet. I lie down. I look up at the ceiling and there are these either 1) baby flying roaches/palmetto bugs or 2) some other kind of beetle. I also notice a big "palmetto bug" walking on the rafters. Great. I don't think I can stay here for 6 days.
Around 3:30 AM I am awakened again by another downpour. It's incessant. I don't have boots, only swim shoes, but I better wear those when I go downstairs, because it is likely a mess out there. I go to the bathroom and it's fine in there; I don't see any bugs, geckos or flying roaches (let's just call them FFR for short - f*cking flying roaches). I go to the sink to wash my face and see something moving on a ziploc bag that has my shower stuff in it -- it's another FFR! I don't have anything to kill it; you know what -- I don't care. All my sh*t is sealed up, so it cannot get anything. No point in freaking out.
***
Day 2, part 1 - Action Plan
Tuesday, June 11


5AM: I get back in bed and start reading Fast Food Nation, which I brought as light reading. Clearly I am not going to sleep much more. My body thinks it is 11AM, though I suspect the lack of sleep makes that less meaningful.



The Gentle Yoga class is at 10 AM. I want to do that to distract me from what I need to be doing. What I should do is call my brother Tim today to work out a plan of action.





I need to leave here because I will not sleep well a second night at all. What are my options?




* stay with Miranda and Tim one night. They could pick me up.
* I could ask someone here to drive me to the airport so I can rent a car. I could check out, and drive to Miranda and Tim. Seems kind of pointless, but I could use the opportunity to see the island on my own as I drive to Kona. If I stay there a day, then I'll have to change my plane ticket and leave out of Kona.
First plan of action is to get to the phone. I can do a local call for 50 cents from the front desk. You're limited to 5 minutes, so that's not particularly helpful. I'll have to discuss my dissatisfaction with Ron before I call Tim. That may determine what I do about staying. He might be able to give me a ride back to the airport, but I'll have to pay them, which is OK. I wonder if I will be penalized for breaking my reservation. I am sure I will. But I don't think I want to waste my time here if I am miserable with the bug situation. Certainly they don't want a bad review on my web site, lololol. Too late.
I am sure this is all sounding like the ravings of a mad woman that's been up over 24 hours. Maybe once day breaks and hopefully the sun comes out, things will seem better, though I cannot imagine another sleepless night here, knowing the FFRs are in here. It feels like I am camping outdoors. This thing is all screened in, but it clearly isn't sealed well, since all sorts of little nagging flying things are in here. I haven't noticed getting really bitten by them (yet). I did bring repellent.
Last thing I need is a vacation from hell that I allow to last for days on end, though. so I need to decide when to pull the plug.
5:30 AM: It is starting to get light out, and I hear that "pa-dump" noise again. When I get up to investigate, I can see what was making the noise -- horses! They are just outside my window, below in the pasture. They must have been running around out there during the storm, under my tree house. OK. That's one small sigh of relief. Perhaps, once it is light, I will be able to lie down for a bit and rest.
I can now see

outside my treehouse

fairly well (5:45 AM), and the site is indeed pleasant.
Large pasture, with the ocean waves audible. You can also see the ocean from the tree house, but it is in the distance. Actual beach access is close, but it's about a mile down the road. Clothing-optional, of course, lololol. Yeeah, right, not for me.
It's still overcast and humid.
***
Day 2, part 2 - Up and about
So, I got dressed around 6:15 AM and went outside with my Palm cam to take pix of the area. It's not raining, the

horses

are out playing and grazing. I walked the entire campus; I had one guy in a car pass me on the road and splash mud on me, but he was the only person I saw other than the guy cleaning the pool. It is a fairly large place, with paved and gravel trails, with the

main office

in the middle of the grounds. My tree house is viewable from the entry road. I took pix there and at the entrance to Kalani.
| | |
| --- | --- |
| | |


Just across the way from the tree houses is the

Rainbow Room

, where the yoga classes are taught. It is a good sized facility, with a tennis court next to it. I didn't see where there were any yoga props, so I will tote my own.



I was in the meadow area near the volleyball court and I decided to see if my cell phone was live. IT WAS! I had two voicemails on it, one from Tim from last night, another was a wrong number(!). I called Tim back and Miranda answered. The connection sucked but we were able to, over the course of two phone calls, make a plan. Her dad had made reservations at Volcanoes National Park for them on Thursday 6/13 and Friday 6/14 in a 2-bedroom facility, hoping I would tag along. What fortune! They said I could also crash in their place if things really don't work out here in the interim. At least I'll be able to use a landline and a phone card. I have to find out what penalty I might have to pay for leaving Kalani early.
As I type this, there are all sorts of little bugs traveling across the floor, no FFR though. Can I make it another night here? Geez. It will be torture. I'll have to see.
8:45AM: I went to breakfast on the Lanai. Met Ron again; told him about the FFR problem and he said someone would come address it. He introduced me to this guy, Darrin, who is the IT guy there and we talked about the phone lines and the internet access. He has about 10 workstations there that he supports. He ran an extension of the phone line from a telephone pole 2 miles away. The best they can get is about 33.6 bps, or half of what most people have with dial-up. He was a funny guy.
The food at breakfast (7:30-8:30) was scrambled eggs, potatoes, grits, and some tofu dish scramble. There was fresh fruit, cereal, all kinds of muffins/toast and coffee/tea. Was tasty, but needed some salt, lol. I didn't eat much since I have a yoga class at 10AM.
I come back to the office and swipe in. I only have to pay for the days I stay and they will prorate the rest. I call Tim on the cell and let him know that I will be brave and stay one more night. I hope I don't regret toughing it out. I will call them tonight in a panic if I am besieged by the FFR.
At breakfast, Ron also told me a good place to go walking later. If I come out to the main road and turn left, there is a path to a lookout point where you can watch the waves break on the lava rock and meditate. I definitely want to go there.
***
Day 2, part 3 - Yoga and such
Took Gentle Yoga in the Rainbow Room with Inga. She did a good overall workout, on my level except for a couple of poses that I could do, but she really shouldn't have included (

side plank

,

yoga mudra

) because there were newbies in there. The relaxation pose at the end was delicious.
I didn't fall asleep in it, but it was a netherworld state where I forgot where I was, hearing the birds outside the hall, the warm breeze coming in. It was fantastic.
It's too bad she doesn't teach this again until Thursday, when I'll be gone. I don't think I'll do the Hatha class tomorrow since it is at 4PM and I think it will be too hard. I will likely go to the rainbow room when it is unoccupied in order to do some practice on my own with my props. I will need to take a couple of towels to do it though.
There is a restorative class on Saturday that will be held. Maybe Tim and Miranda will want to come to it if they are still on that side of the island.


Came back to the room and it has been "cleaned", though that term is questionable. I still see the dead bugs still on the floor. The bed was remade, towels replenished. Whether it was sprayed or not is another question -- wait -- there is a can of

Raid

left on the floor for me, which I put on the little fridge.



I don't see any bugs either. I guess they did a first pass. I'll be spraying the place again once the sun goes down. I see a couple of the ant-like things and sprayed them and the Raid seemed to work fine. Maybe I'll get sleep tonight. I have to remember to put on more bug repellent before going out to lunch.
I wish my phone worked in the damn room. I'll have to go out to the main building/gift store and buy a rain slicker next time it lets up.
I hope that I am not bored silly all day. There is a weaving class that is at 3PM in the cafe. I want to try that.
Went to lunch. Had a chicken salad and cup of tea, and a maple scone. The iced tea is flavored (peppermint). Bleh. Ate with a nice couple from San Jose, CA. Both were in my yoga class. They had ants in their bed last night as well when they came in (they arrived ahead of me). They almost left too, but used the Raid and took care of it; they are also leaving tomorrow. They said the walls are thin between (they are on the other side of the wall from me) and they can hear everything, not that I was making noise. Like me, they are unhappy with the accommodations, but like the people, the classes and the food.
What was worth it all...


After lunch, I went out to that point Ron suggested.

The path

is about 50 yards from the entrance to Kalani, marked only by 2 stones. It's isolated. I put down a towel, and pulled out the Palm to record my impressions--



I am typing this as I sit on the edge of a cliff of black lava rock, all by myself, with the waves crashing and breaking before me.




The sea spray is light on my face, and smells wonderfully pungent. The dark clouds from the morning are finally parting, and I see blue sky and white clouds. Lush green foliage, a deeper green than pictures can convey, grows out of the rich volcanic rock on either side that just out from where I sit, perched about 100 feet above the ocean. It is all a majestic thing to witness - proof that the earth is truly wonderous. The solitude is almost mystical...it is rejuvenating. There is not a soul anywhere in sight.




I stayed out on this point and did some yoga poses...how amazing is this feeling as I sat in bound angle facing the ocean waves crashing just feet away from the edge. I laid down in shavasana (relaxation pose, on my back) and listened to it all, trying to lock this memory away to savor again in another time and place.
The panoramic view of the point; click to enlarge.
***
Tried the cell again. Got disconnected. The lack of consistent service here sucks. I may call Tim from the office when I call tonight.
Right now I am sitting at the pool; there is a hot tub out there too. No one is here right now except the guy that taught the tai chi class. The weaving class starts in a few, so I'll hang out here till around 3 pm. It's nice and quiet. Most of the guests are out snorkling (like the couple from San Jose) or seeing the volcanoes. It's overcast again. The weather on this side of the island is weird.
Day 2, part 4 - Weaving and evening
So I went to weaving class, taught by Lynda, where I made myself a bracelet. It's not bad, clearly flawed, but ok enough to be passable. Lynda was really funny. She is this flaky woman in her late 50s, with her curly hair dyed about 4 shades of blonde. She has this motherly vibe, but has a voice that is quiet and whiney, sort of like a mild Penny Marshall. It's hysterical. Some of the young (early 20s) boys that volunteer here in exchange for room and board, came in and greeted her. One of them had a bad cut from surfing on his hand and Lynda took us outside and showed us a plant that islanders use to put on wounds. She had the guy chew a leaf, then place the cud on the open sore. She said it has a alum-like chemical in it that causes the wound to close up.
That class ended around 5PM, so I went walking around and came back to the room around 5:30. I was very tired all of a sudden (my body still thinks it's 12:30 AM), so I lie down and put on my headphones to listen to a guided meditation MP3, put on an eyebag, and I drift off to sleep.
I woke up around 6:15, so I need to dash off to dinner. I get up and stumble out of my treehouse and down to the meal hall, which is about a quarter mile walk away. Some people actually drive there; this seems ludicrous, given there's a decent walking path. Anyway, there's Koi fish (cajun style), salad, green beans and cauliflower, and some sort of wheat/sunflower bread. It was tasty. I ate alone, even though that nice retired couple from San Jose was there, as was Ron. I felt tired and just wanted to eat and go back to my room and meditate.
I tried my cell phone when I left the meal hall, and I had a message from Tim on it that was broken up from his bad transmission. I assume it is about the plan for tomorrow. I try calling back, but my connection is weak and I get his voicemail. I stopped by the main office (which is between the meal hall and my room) and called using my calling card and the land line, and left a message for him. I told them I would check out at noon tomorrow and that they could call the main desk for directions to Kalani.
I went back to the room and wanted to rest, but I decided to go walking again to the lookout point. I packed up some towels and walked out there. When I was on the path to the point itself, I saw that there was a couple of people there. Oh well. I know not to come at dusk, lol. I turned around and came back to the room. I remind myself to head back out there in the AM and take a picture of the point itself.
***
It's about 7:30 now and there's a hula class, but I am just too damn tired to go. I go take a bath. As I get out, it starts raining again. Not too heavy though. I am standing there at the mirror and what do you know, that giant 2.5 inch

F*cking Flying Roach (FFR)

crawls out from behind the mirror! I whack it with a big bottle of soap on the counter and it goes belly up, squiggling. I decide to be sadistic and put the bottle on top of it. Since the bottom of the bottle is recessed, that bastard is trapped under there. Hahahahahaha. I will leave it there for housekeeping to find.
***
I get in my jammies, and continue reading Fast Food Nation, getting about a 1/3 of the way through. Then I doze. briefly.
I awaken to the sound of another downpour! We are definitely either in a rainy season, or this part of the island just gets rain like this every day (some areas do, such as the Kona coffee fields). I have the fan on in the room, and it isn't really that humid, relatively speaking.


I put on my

MP3 player

and listened to more guided meditation while stretched out on the bed, and at some point I fell asleep. Since the player cut off, I must have listened to about 2 hours worth of stuff.



Oh, and as far as the bug report goes, I sprayed the whole place once more before going walking earlier, and I can report that I've seen nothing but that FFR I trapped. No ant-like creatures, only a couple of flying gnat-things, which are not menacing. No crawling "friends" on the ceiling either.
***
Day 3, part 1 - Getting up and getting ready to go
Wednesday, June 12.


4AM: I get up to update my journal and to take off the MP3 player and recharge it. I am hungry. I have some

Choice

bars in the fridge, so I eat one, since it will be a while before breakfast (7:30). It is still raining out there.



7:45 AM: It decided to storm yet again, just as I stepped out to go to breakfast. I headed in to wait it out. It stopped, and I went to the meal hall.





I sat with Gail and Clint again (the couple from San Jose) and

Mickey, one of the Kalani kitchen staff. She is from Silicon "Silly-con" Valley, but appears to be a native islander.
Recommendations on things from Clint and Gail at Volcano National Park, since they were there before coming to Kalani:
* Reiki: Barbara Golden, Rainbow Rainforest Retreat. Gail and Clint stayed there.
* Good food: The Lava Rock Cafe, town of Village. Also: Kiluea Lodge, Volcano Village. Ice cream sundaes.
* Thai food is great at Thai Thai restaurant.
* Cheap shopping: At the TrueValue hardware store in town, upstairs is a souvenir shop, that beats the prices almost anywhere around here.




Left breakfast, and I stood in the meadow to get a cell signal to check for messages. Tim left a voicemail saying they were heading out this AM after getting directions and will be here around noon.


I went back out to the point past

the entrance to Kalani

and took pix with my film camera. I laid out some towels and stretched out for a bit. There are some damn biting red ants out here that I swat away. Not too many though. The sun is bright and intense today, I am under a tiny palm tree for partial shade. I type up the morning's notes on the PDA as I listen and watch the waves.
| | |
| --- | --- |
| I put on my MP3 player and listened to Anita Baker's Rapture - what a great record to associate these sights and sounds with! I laid back with my eyes closed and then listened to a guided meditation, after a while it started to drizzle lightly. It felt so cool with the ocean breeze evaporating it as the rain hit my skin. It stopped for a bit, then began again. I looked at my watch and I had been out there for over an hour, so I figured I better not stay out in the sun too much longer. I headed back as the rain came down a bit harder. | |




As I walked up the Kalani drive, I saw that the horses that I can see from my room had come a bit more closer to the fence, so I took a picture of them. I came back in, washed up and changed. I packed up my things and did a double check of everything. I sat down, relaxed with a bottle of water and sat down to update this journal. The sun is back out again and the sky is clearing (again). Boy, is this weather odd.



Went to the main office and checked out. As I was at the desk, Tim showed up. We hugged and went to their rental car, a Ford Escape. I greeted Miranda, who had cut her hair short since I last saw her, in a Louise Brooks-style bob. I took them to my room (I had left it unlocked so I could leave my bags there till they came) to show them the

view of the point and we took some pix

.



We loaded the car and drove around the grounds, so I could show them everything.





They were surprised at how rustic Kalani was. They thought it would be more like a resort, not like a retreat nestled in the "jungle." Then I took them out to the meditation point. They were shocked at the isolation and beauty of it. We took pix.





Then we drove off to Kona, doing some sightseeing and picture-taking along the way...
| | |
| --- | --- |
| | |
***

Day 3, part 2 - On the road
Here are some of the places

Tim and Miranda

took me --




* Picked up lunch at a local take-out stand in Hilo. We had laulaus, which is a wrap of chunks of pork, fish, chicken and potatoes rolled in Ti leaves) from Ka'uppena. We ate in at Hilo Gardens a short drive nearby, which is a city park on the water.





* We took Hwy 19 in the direction of Kona, the: scenic route. We stopped and took pictures at Onomea Falls.



* At the

Akaka Falls Cafe

, located on a small strip of older buildings, we had some delicious homemade ice cream. I had a cone with vanilla and macademia nut ice cream.

* It was off to

Akaka and Kahuna Falls

for more pictures. To get to them you had to take a paved but often steep path. Not painfully long, It's worth the stop, though, the view is amazing.
* The next stop was the point at

Laupahoehoe

, where the waves were breaking high. This location was the site of a tsunami disaster in the 1940s that killed a class of teenagers and teachers that was on a field trip there. It has many large lava rocks that jut out at the water where you can wade in at low tide. It was high tide here and it was easy to just go in a few feet and get pelted by some big waves. Tim almost got caught in one when we were taking pictures.
* We reached

Waupio Valley

– it rained, but it was still majestic.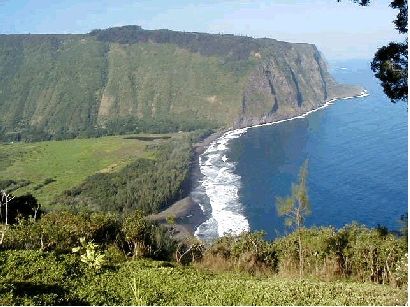 * On the way through Parker Ranch country, we stopped to try and capture a pic of an awesome

rainbow

.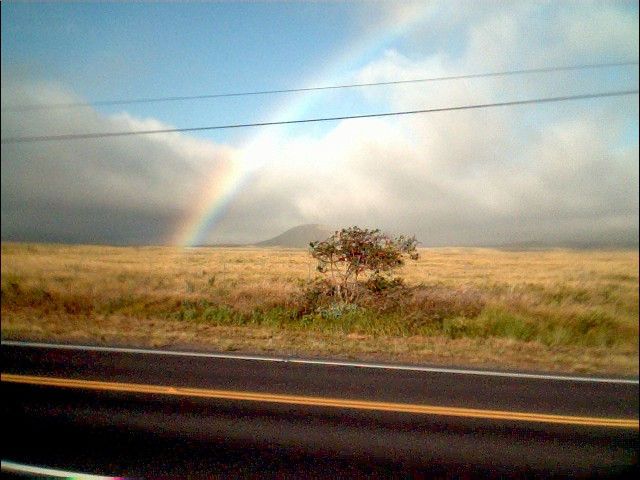 Dinner was at Kona Inn Restaurant in downtown Kona, where we watched the sun go down as we sat on its patio. There were men out on the ocean in Outrigger canoes, braving the fairly rough waters. I picked up some postcards at a local store, Tim went to a Borders to get a jazz CD and we stopped at Wal-Mart to buy film. I have to remember to shop at a Wal-mart when I get to Oahu, because they have lots of touristy stuff at good prices, even locally made dresses and shirts that cost an arm and a leg elsewhere.
***
Miranda's father Walter owns

the house

way up on a hill in Kailua-Kona that Tim and Miranda are staying at. The house has an attached, but private, guest bedroom and bath that has a double bed and two sofa bunks.


A couple lives in the main part of the house year round. Tony and Sharie have two funny dogs,

Gadget and Gizmo

, that are very friendly.


Tony is a tiler and Sharie works at the Hilton Waikoloa north on the Kohala Coast. We were introduced and we had an interesting and funny conversation about the wild boars/pigs that come down the mountain for water. Tony killed 27 wild pigs over the last couple of years. He showed us a photo album of the catches. Those beasts are no "Babe"s; they are mean and ugly and charge people. The largest one they caught was over 200 lbs and it had to be shot when it ran at/attacked Sharie's father in law. We settled in the room after a while and I took a shower and went to bed. We have to pack in the AM for our 2-day trip to Volcanoes National Park.
***




Day 4, Part 1 - Around Kona, onto Volcano




Thursday, June 5:3

5 AM: Got up, updated log. Packed a smaller bag for two-day trip to Volcano Natl Park. Went to Kona Airport to change my flight to Honolulu on Sunday from Hilo to Kona. Was $10 penalty. Then we drove along the scenic highway to breakfast, the

Aloha Angel Cafe

. The waitstaff have T-shirts with angel wings on the back. I had a great feta, tomato, green onion and bacon omlette.
Back on the road to

The Place of Refuge

, where fugitives from the law in ancient days would be forgiven...if they could make it there. Lots of pix here, we goofed around on some of them.
We went to the Kona Cafe for pie and then drove off to

South Point

. It is at the southmost tip of the island, a desolate place where it's very windy. This is also the southernmost point of the U.S. -- the next closest continent is Antartica! They have

windmill generators

there. We went all the way out to the edge. We each picked a point out there where we could meditate and just marvel at the waves hitting the huge lava boulders. I am actually typing this while perched on the edge of a cliff; the sheer drop beneath me to the rocks below is both frightening and exhilarating; I had to grasp my stylus that I typed with in my fist tightly; the wind gusts were that strong. I gripped my Palm like a vise.
| | |
| --- | --- |
| | It was the first anniversary of Miranda's brother's passing. She bought some beautiful exotic flowers and cast them into the ocean to honor his memory. |
***











Day 4, Part 2 - Lodging for the night


We checked into the Kilauea Lodge Country Inn (stay@kilauealodge.com, 800-967-7366) around 5PM and I found that there was a place called the Wellspring Center next door that teaches yoga. I plan to go the 7:30 class tomorrow.

We went to the

Lava Rock Cafe

for dinner and had some tasty food. It's a small, intimate place with tables inside and out. There was a guitarist there that sang some James Taylor and Jim Croce. He had a wonderful voice and it went well with dinner.



The odd thing that we all noticed about this area (Volcano Village) is that it is much colder here than the rest of the island. Cell phone service is no good here either. You have to pay a roaming fee. There is a public phone in the common area outside the room. That area is quite nice; it has a fireplace as well as a TV/VCR.





We decided to go into the hot tub at the Lodge after dinner. It was quite marvelous, we all needed the relaxation after all that walking and hiking. We had the whole thing to ourselves.
We came back to the room relaxed. Went for a short drive because Miranda forgot her toothbrush, but the general store was closed.
Tomorrow I'll get up to make that 7:30 yoga class at Wellspring Yoga Center and the have a breakfast and then come back and finish up my postcards. I saw that there was a post office down the road so I'll take advantage of that and mail them off. While I'm at yoga, Tim and Miranda will go hiking in the Volcano Park to do a trail that will be over in few hours then they will pick me up.
***
Day 5, Part 1 - Yoga and Hiking in Volcano
Friday June 14
6AM: Got up and got dressed for yoga. It is chilly today. The class was wonderful. If I get back here I'd go again, and highly recommend this place.


Wellspring Center for Stress Reduction, Therapeutic Stretch and Yoga
190 Kamehameha Ave., Room 4
Hilo, Hawai'i 96720


808-969-4885


wellspringyoga@aloha.net
Teacher: Kathleen Porter, who studied under Jon Kabat-Zinn at U Mass Stress Reduction Clinic and is certified in yoga through the Sivananda International Vedanta Centre.




After class, I grabbed an omelette at the Lava Rock Cafe then checked out souvenirs at Truevalue.
11AM: I walked to the post office down the road, mailed off all my postcards and came back to the room. Tim and Miranda were there, waiting for me, lol. I thought they wouldn't be back from the first Volcano Park walk until noon.
Called Wanda at the U of HI Press to let her know that my flight to Oahu would be earlier on Sunday (10 AM), than originally planned.
Today I changed to a spaghetti strap top to get a more even tan, slathered on the 30 spf sunscreen and hoped for the best. It was a bright day, so getting a tan isn't an issue, just whether I'll burn.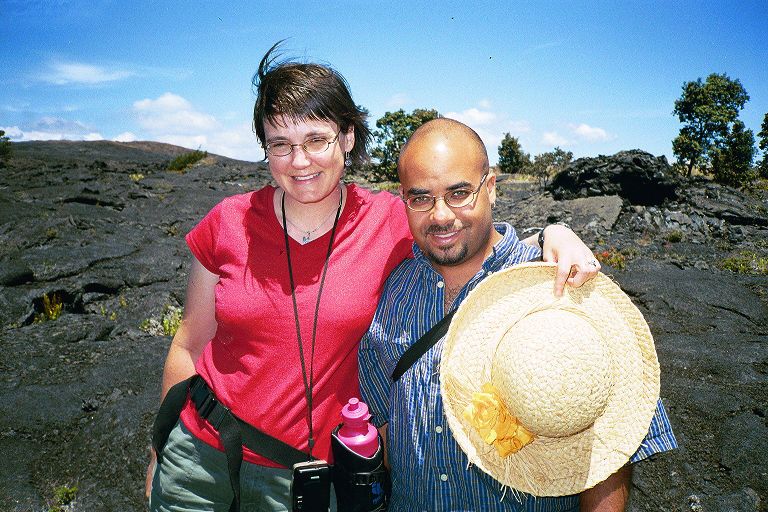 1PM: We're sightseeing at

Volcano Park

and part of the Crater Drive is blocked off during the day. We took 2-mile hike along a giant lava flow to a mountain called Hairy Hill. Tim and Miranda made the hike up to see the view. I couldn't do it because the terrain was too rough and uneven for my feet (I have hallux rigidus and I cannot flex my ball joint well). It sucks to have limitations like this when otherwise you're fine. The only thing worse would be to risk injuring myself out here in the middle of nowhere.
| | |
| --- | --- |
| | |
After that, we went drove along Crater Ridge, and later a field of steam vents that smelled like sulfur. The last hike of the day was to the bird park called

Kipuka Pualu

, a trail that was untouched by the lava, so there was old growth flora and fauna, such as a type of pheasant that had a red crown. We saw the male and female of the species, as well as the chicks. They looked like chickens, really. We saw giant hollow koa tree, and then we returned to the car. Tim and Miranda thought about coming back to the park to see the live lava flow at night.
***
We came back to the lodge around 5:30; we were moved from the 1 bedroom room we were in last night to a 2BR cottage called

Tutu's Place

(it's a charming 2 BR/1BA house a couple of blocks from the main lodge. For $150/night you get the whole house, with full kitchen, fireplace, TV/VCR. It's a bargain at that place. It sleeps 5. What luxury! Thanks Walter (Miranda's father).


We went to

Thai Thai

and ordered take out, and while that was on order we went to the general store to get some soda ($2.50 for a 2-liter bottle! good god!), and to the Lava Rock cafe to pick up desserts. We drove home, and stuffed ourselves--the food was great, not too spicy. We wanted to get to the hot tub on the main part of the hotel one more time in the evening. At this cottage, they give you nice complimentary bathrobes, so we showered up, loaded in the car and drove off to the hot tub. It was all to ourselves, so we relaxed among the lush foliage, loosening all the tight muscles from the long hikes today.



After we drove back, we got in out comfy clothes and ate dessert, then sat in front of the fire; I decided to update the journal.
***
Day 6, Part 1 - Road trip back to Kona
Saturday, June 15
It's raining today, so there won't be a lot of volcano visiting. We are going to have breakfast at the Lodge, then hit the road to visit some local arts and crafts shops. The waitress at the Lodge was incredibly incompetent; the place was nearly empty and we had to wait forever for our tea, coffee and juice. It was so bad that the other waitress there came over to save the situation. Apparently the bad waitress is a chronic problem. Tim and Miranda said the good waitress had to help them out yesterday as well.
Tim and Miranda then went to the

Thurston Lava Tube

in the AM after we had breakfast. I stayed back at the cottage and laid before the fireplace under a quilt - I had way too much sun yesterday and was dealing with resulting chills. They came back about a 1/2 hour later, looking for flashlights, since it can get very dark in that tube. The flashlights at the cottage had weak batteries, so they ended up staying back at the cottage for a few minutes and then we all headed out.
We drove through Volcano Park and went to the Volcano Inn, an historic hotel perched on the edge of a crater. Tim and Miranda thought that they might be able to access a spot from there called Broken Road, where the State attempted to build a road nead the crater and it collapsed. They didn't find an access point though.
Across from the Volcano Inn is the Volcano Arts Center, a gallery of local art. Interesting and expensive stuff. We then drove toward Hilo, and reached the downtown area, which is a quaint collection of older buildings next to the bay. We stopped for lunch at a place called Cafe Pesto, and had personal pan pizzas. I had spinach and feta and it was tasty.
On we went, continuing north, wrapping around the hillside, trying to make good time (before 6PM) to reach Kona to the

Kailua Candy Store

, where they make homemade chocolate and you can watch them dip macademia nuts, shortbread, animal crackers and such into the chocolate. They use only locally produced butter, eggs, cocoa and other ingredients. Most of their business is done by mail order. We tasted free samples and I bought a bunch of items for gifts and had them shipped directly. I cannot eat more than a taste as the carb load is pretty damn big on these candies.
Contact info:

Kailua Candy Company
74-5563 Kaiwi St. (at Kuakini)
800-622-2462,

808-329-8721

(f)
Email: info@lailua-candy.com
Web: http://www.kailua-candy.com


After that excursion, we decided to take in the sunset at the Keauhou Beach below where Miranda's father's house is in Kona. We sat and watched the

big turtles

wash in and out of the shoreline. One came up to beach itself and rested for the evening. The rule here is you're not supposed to get within 10 feet of the turtles, so we respected that space.



Once the sun set, we headed up to the house to put our bags in and when we got in there, we saw a giant flying roach!
There were also ants on the sofa. Apparently, they had left some food stuff (ripe bananas and a box of Cheese-Its) laying around in the room during the 3 days we were gone and it drew them in. Out came the Raid. Tim had to sleep in the main house and we plan to set off a bomb tomorrow AM when they take me to the airport.
***
Day 7, Part 1 - Moving on to Oahu
Sunday, June 16
My flight out of Kona to Honolulu is at 8:55 AM (and is about an hour in the air), but I need to be at the airport at 7 AM in order to get through security.
They dropped me off around 7:15, and there wasn't much of a line. However, the security was tight. The Kona airport has one of those new InVision scanning machines. I had to roll my checked bag to it and put it on the belt. This procedure took about 5-10 minutes, but it was empty here, so I could imagine lots of problems at a busy time. I ten went through regular security and had to be wanded; my toiletry bag got bomb-residue-swabbed again. As I went to the gate, it looks like there will be another check before boarding. At this gate, it's outdoors (as is the waiting area), and you board on the tarmac.




The flight was about 35 minutes. I had to sit next to a child that would just not sit still. Even so, I managed to sleep through most of the flight because I was so tired.





Wanda

greeted me with a beautiful lei and we went to her new 2-door Toyota coupe and we drove off. We decided to get some lunch so we went to Kua Aina for a burger, which was in a nearby mall in downtown Honolulu.
We stopped by and checked me into the Ohana Maile Sky Court, which is in Waikiki, but a few blocks from the beach. It's a nice room, small, but clean and you can open the windows. I put on some sunscreen and head downstairs since Wanda was waiting in the car.
We head off to some sightseeing around the island we go on an excursion to a wonderful city park in the hills on

Nu'uanu Pali Dr

(old Pali Dr.). The cool thing about this park is the view of the city. The ultimately cool thing was that the old road, used to connect towns during the last century until the creation of the current parkway, is still walkable. It's really overgrown with many varieties of plants, including california grass, gingerflower plants and even banana trees. Wanda and I walked this old road all the way down till it was practically impassable. The hike back up the hill was quite steep, but it was a good way to walk off the burger.
We then went on the first of several shopping excursions. There was a new Costco downtown, so I flashed my card and went in to see what they had in there. It was much like our Costco in NC, though here there were varieties of macademia nuts that you cannot find, so I loaded up the cart with them. I also found some cool, kitschy cotton car seat covers with aloha prints that I will put in my Focus wagon. I checked out the salmon prices, since my local Costco usually sells it at $3.99/lb. Here it was $5.79/lb! Generally the prices were about the same.
Next stop was Hilo Hattie's, where they sell lots of aloha shirts and muu-muus. I didn't find anything there that I liked, so we then headed to Wal-Mart. Indeed, there were many nice things there, but none fit right, so I was frustrated at that turn.


We took a break to get some ice cream at Bubbie's and then continued our shopping. We stopped at the

University of Hawaii Press offices

to drop off all my purchases for mailing back to the mainland. Their offices are quite different. Each department is in a separate, 1940s building. No central air, just window units. The rooms are open with big cubicles formed by dividers and furniture. Wanda showed me her server room. She is a big fan of Novell Netware 6 for file and print serving. We sat and talked shop for a while and then headed off for more shopping.



Eventually, both of us were tired, and around 7PM she dropped me off at the hotel and went home. I went up and took a bath, relaxed and then got dressed and went down to explore Waikiki for a bit.
I walked down the main drag of Kuhio. I managed to see some interesting urban action as cops were swarming around a city park arresting people. I couldn't see what was going on, really, but it reminded me of being in NY.
I stopped at a street vendor and bought a Waikiki t-shirt and got a soda and walked back to the hotel. I was really tired all of a sudden and realized I needed to sleep.
I went to bed.
***
Day 8, Part 1 - Arizona Memorial
Monday, June 17
7AM: I slept well. I got up and knew I had to get myself together by 8AM, when Wanda would call. We are going to Pearl Harbor, to the

Arizona Memorial

.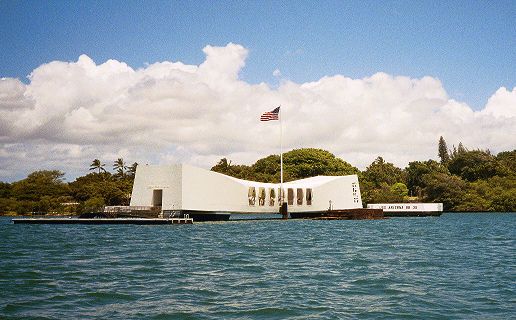 I got dressed and went downstairs, got something to drink and headed up to the room again. Wanda called my cell and I put on some sunscreen and headed downstairs. The weather was pleasant, but the sun is intense.
At the memorial, the parking lot had a prominent sign that said "This is a high crime area. Do not leave important items in your car." Not only that, you cannot take a purse, fanny pack or anything in there with you. So I slipped my money and my Palm Pilot in my shirt. You have to take a number for the shuttle boat that takes you to the memorial, and you wait in this lovely open building where you can sit outside, looking at the harbor, or stay inside and look at the various historical exhibits about December 7, 1941. We were trip #12, and they were on group 7. Around the time when group 8 was called, they announced that one of the two boats was out of commission, and that our trip won't occur till 11 AM (90 minutes). Wanda and I gabbed, and walk around the grounds, so the time passed quickly.
When our turn comes, we are eventually shepherded to a theatre where we watched a film about the history of the memorial, and then we got on the shuttle ride to the Arizona.
| | |
| --- | --- |
| | |
| | |
| Gun turret No. 3, stern | Funnel of smokestack, Gun turret#2, bow |
No matter what you think about war or the military, it's a moving experience to think of all the lost souls on board below you, never recovered from the Arizona. Oil from the hull still rises to the surface as droplets, dispersing on the bay water. The memorial itself is built on top of the wreckage, so you can look out the window and see the ship below. There is an observation port at one end of the memorial, and a list of those that perished on the wall.


It was pretty hot when we returned, and both of us were hungry. Wanda took me to a Korean BBQ place,

Yummy's

. I tried the special plate, that has 2 scoops of rice, spicey grilled BBQ pork, chicken and beef and a choice of 4 veggies. I chose seaweed, long rice noodles and cabbage, and hot cucumbers and watercress. It was all very tasty, though I left most of the rice to avoid carb overload.

Plate lunch: this is the equivalent of a Philly Cheesesteak or a BBQ sandwich; a local well-known foodstuff. A plate lunch is 2 scoops of rice, one scoop of macaroni/potato salad and a meat (hamburger steak, korean beef, pork or katsu chicken) You find this everywhere, even in McDonalds, BK and other fast food places! Too many carbs for me; I don't know how people can eat it.



We then headed over to T&L Muu-Muu factory on Kapiolani Blvd. I tried on several styles and actually found one I like. Of course, people around here wear these to work and such, but I'm sure I'll look the fool when I wear mine to work, lol.





Today was a day of shopping. Wanda drove me all over to various outlets and malls and it was a lot of fun. Honolulu is so interesting, and people watching is fascinating. A couple of notable observations:
1) People here are colorful: in every sense of the word. The amount of ethnic diversity here is amazing and refreshing. There are so many people of all colors -- Japanese, Chinese, Korean, Polynesian, Filipino, Hawaiian, etc, many intermixed. You don't see many African Americans or Caucasians here as you do in, say, NYC. You see more of the pale persuasion in Waikiki, but most of those folks are obviously tourists, since they dress like visitors in loud aloha clothing.
2) People here are bigger: I don't feel particularly large here, lol. Many people here are if not overweight, are simply ROUND. Many are also large overall. The Samoans here are huge. The guys look like they could crush you in their hands. Wanda said that the people I see in Waikiki are generally more slender, but that out in the "country", almost everyone is rounder than the average person on the mainland.


The other oddity is that people find my

locs

fascinating -- apparently this hairstyle is very uncommon here. I mean people just ask me about my hair, how it gets that way, "it's so cool," etc. None of the few black people I've seen here wear this style, it's either worn chemically straightened or in braids, so I guess I shouldn't be surprised at the reaction, lol.



I called my friend Denise in NC to confirm that she or Kelly or both of them could pick me up at the airport.
Day 8, Part 2 - More malls
Wanda and I continued our mall quest (Ala Moana Mall, Pearlridge Center), but I was actually at a second Wal-mart when I saw this girl wearing short overalls made of an aloha print fabric. I wanted those. Unfortunately you cannot find them easily. Wanda learned that they are sold at swap meets (local flea markets). Those are on Wed, Sat and Sun., so I won't be here to get them. It means that I WILL HAVE TO COME BACK next year, lol.
Around 6:30 we had dinner at the Cannery. I had a steak and Mahi Mahi. It was tasty. We chatted a good long while and went driving through town sightseeing and ended up at Baskin and Robbins for a cone, then she dropped me off at the hotel. I came up and was pretty tired.


Media diversion: on the local news here there was mention of

The Rock

(Dwayne Johnson), the wrestler with the WWF/WWE, was in Oahu last week. Apparently he has connections to the area (he's half Samoan), and Wanda said his appearance was a BIG deal here, with WWE tix going for $90. He is also supposed to star in a movie on the life of King Kamehameha. A bigger deal to me was news the

Bruce Willis

is on the island (and was at The Rock's show). Bruce is filming some flick here and during off-hours he can be found at various clubs working the turntables and singing.


I love Bruce Willis -- I'm not sure why, lol; I've been a fan since

Moonlighting

, but it goes even back to an early Miami Vice episode where he turned in an excellent performance as a violent heel. And it goes without saying that his portrayal in The Sixth Sense was fantastic; I saw it 4X (he and the amazing

Haley Joel Osment

had incredible chemistry). I don't know how on earth he often gets pegged as the action hero type -- the Die Hard series, particularly the first one, was excellent and his acting style and presence is what helped make those films succeed as they did.



A lot of Bruce's work before and since has set him apart from one-note action stars. Anyway, it would be cool just to see him while here, but it's obviously not likely to happen.
I updated the log and went to bed.
***
Day 9, Part 1 - Last Day
Tuesday, June 18
I have to check out today, but since my flight is so late (10:40 PM) I need to check to see if I have late check out available. I also have to get the extra key from Wanda to turn in. She plans to pick me up and go to her Press to meet everyone, and then mail my package back home from there. I am supposed to go out to lunch with her friends for Japanese food. I will try to get in a little more sightseeing and shopping before heading out. I need to get to the airport around 8:30 PM.
6:30 AM: I get up and shower and wash my hair and pack up.





9AM: Meet Wanda and we drive over to the

State Supreme Court Building

. It has a large statue of King Kamahameha I in front of it and then we saw the

Iolani Palace

, the only royal palace in the U.S.



We then went to Chinatown, which is incredibly clean compared to NYC Chinatown. I didn't find a muumuu there.





Then we went to the

University of Hawaii Press

, where I met 2 Cindy, Elyse, Lucy (and her killer chihuahua Pepper) and Santos. We went to the girls' weigh-in at Curves women-only exercise place. Went to Long's Drug Store and picked up honey roasted mac nuts.


| | |
| --- | --- |
| Lunch was at Asia Manoa, and we ate family style and talked shop. Went back to the Press and I met Joel and several other Press people (Carol, Steph -- in their marketing department, and Ann from Acquisitions/Editorial) before packed up all my booty from shopping and we went to the P.O. and mailed it. $30. | |
We parked in my hotel and walked to Waikiki to continue the muumuu hunt. We took a detour, getting lost looking for the muumuu factory, and ended up in the Duty Free Shop Galleria and I took the plunge and got in this machine called the

Aqua Marine Massage

, which is a George Foreman grill-like/suntan bed that you lie in and a plastic sheath lays on top of you and you are pummeled with water pressure going up and down your body. It was weird but wonderful and cost $10 for 5 minutes, but she let she let me stay in there longer, closer to 10. I want to take one home.
Next was the International Marketplace, where I found one more muumuu. This was the place to haggle for shoppers. Then we walked back to the hotel, Wanda got to take a look at the view, and we checked out. Got a big discount on the parking and room because of the Kama'aina (local/islander) rate.
Drove to Kaka'ako Park, which is near the waterfront, and saw wild kitties, surfers and a bit of Diamond Head.
Next was

Aloha Tower

, which used to be the tallest building on Oahu, and was actually painted in camouflage to avoid being bombed during WWII. It's also full of shops that you cannot afford to buy anything in. We decided to eat at Don Ho's Island Grille, How hokey can you get on your last night in Waikiki?

Wanda took my pic

in front of the tiki idol in front.
In the spirit of shop til you drop, we went to Ala Moana mall once more to check out that Hilo Hattie's. No luck on muumuus. We had ice cream at Dave's in the basement of Sears – it's locally made (and good) stuff. Last stop was a scuzzy KMart on the way to the airport. I got A fake flower for my hair so that when I return to work and wear my muumuu while doling out macademia nuts that I will look authentic, lol. Wanda made me promise to send a pic of me serving in my getup.
She dropped me off at the terminal, 2 hrs early. It took me about an hour to clear the agricultural inspection (you cannot bring produce or plants to the mainland) and security. That green carryon got pulled again. I had two leis in there, but that was ok, seems it was my hair dryer that was causing concern. They emptied all of the contents out on the table. Nothing like having tampons and pads laid out for all to see, but these are the times we are living in. Most of my stuff was in clear Ziploc bags, but she opened them all anyway.
Day 9, Part 2 - On the way home
I updated the log as I sat in the HNL terminal gate 18, waiting to board at 10:04 PM.
Flight 1 - Honolulu to San Jose
10:34 PM, AA FLT 58
Ugh, it's a 757, with a 3-3 seat config. I have a window seat. It's a packed flight, and they offered $300 and hotel for a night to stay over, but I didn't find this out until I landed.
I slept through this flight, only waking briefly for a drink. It was about 4.5 hrs. The movie they showed was The Time Machine. They served some kind of meal, but I slept so hard I missed seeing what it was. I wasn't hungry anyway. There were a lot of screaming kids on this flight, but they were thankfully not immediately next to me, in front of me or behind me.
***
Day 10, Part 1 - Still on the way home
Wednesday, June 19
Flight 2 - San Jose to Dallas/Ft. Worth
7:55 AM, AA FLT 2448
Nothing eventful here, either. I slept again. They had you pick up a "bistro bag" as you boarded -- your breakfast. Inside: Box of Wheaties, lo-fat milk, bag of raisins, a crappy-looking "bagel" and no-name cream cheese. I only ate the cereal.
The Dallas airport is huge and spread out. You have to take the AAtrain from one terminal to another. I have only about a half hour before boarding, so I scoot to the train to get from A terminal to C21.
Flight 3 - DFW to RDU
2:25 PM, AA FLT 312
I had seat 17E, and feared this was a middle seat. If it isn't a 757, then it's a window. Nope. It's a Super 80 jet, 2-3, config, I'm in the middle. I'm just going to sleep on this one too. American Airline's seats either must be wider or I'm smaller, because the middle seat isn't as bad as I've experienced before. I had a drink and a small bag of Chex-like mix. I couldn't sleep, since the ride was a bit bumpy.


I was pleasantly surprised when

Denise, Kelly AND Kristen

showed up at the airport to pick me up. They whisked me home, where they witnessed my horror at all the dog hair (yeah, I expected it) all over my house from 9 days without a vacuum. We then had a fun dinner at Cattleman's, but not before Kristen's ATM card was swallowed by the First Citizen's Bank ATM. So weird.



So I came home and began unpacking, sorting mail, doing laundry, and the dreaded vacuuming. It's good to be home. I am looking forward to getting the film developed and then creating the web site that you can now see here!
Aloha and Mahalo!

--Pam