Ah, the weekend...time to slow down (particularly if you're snowed in, thankfully I'm not) to post about topics that aren't part of a news cycle.
---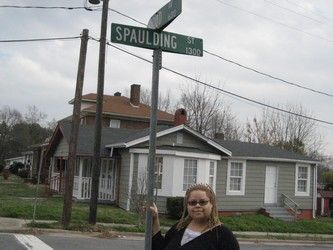 While many people now know I'm not one of those "big city gays," I still find myself in conversations with blogtopia peers where they make an assumption that I must be writing out of DC or New York City since I'm a political blogger.
When I say I live in Durham, NC, a number of people have a vague notion that it's located in a relatively progressive area of the state, others don't know where it is or what it's like politically. Many assume I'm not a native of the South since I don't have a very noticeable accent (neither does my brother, we're not sure why).
Anyway, here are the thumbnail facts: I was born in the Bull City back in the stone age of 1963, and moved to New York, specifically first to Hollis, Queens (Run-DMC!) and later Bedford-Stuyvesant, Brooklyn. That was from 1976-1989. I returned to Durham in 1989 for the pace and quality of life -- all I need now is my civil equality (no small matter).
Sure, we could pack up and move to a Blue state where our Canadian marriage was recognized, but Kate (who hails from Birmingham, AL) and I love Durham, the people here, the interesting political environment, and the fact that we can live a pleasant existence in our progressive bubble as we work to make more of our state Blue and LGBT-friendly. Someone has to do it, we can't all leave the places that need more, even difficult work to move closer to equality.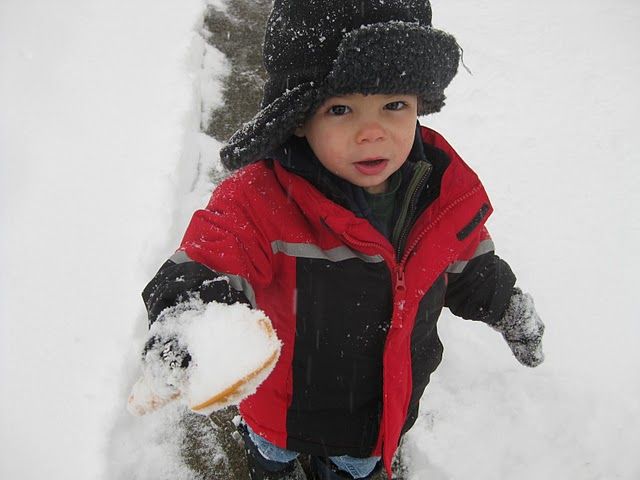 LGBTs here have to move our lawmakers in the right direction by city and by county, letting people see we are neighbors, co-workers and members of the community. That's still a powerful cultural step of social change, particularly since decisions at the federal level will likely occur on issues like marriage before our legislature ever spines up.
Anyway, enough soapboxing...get on with the photos. I actually took these almost two years ago, as Kate and I decided to do a little Aunt Pam video tour of Durham for my nephew Mr. E., who doesn't know anything about the town his dad Tim grew up in.
More below the fold, including a little family history and photos around town.
Most of you probably don't know that the Spauldings have a rich political history in the life of the Bull City and NC, in electoral politics, education, business, and had an impact on the civil rights movement. See C.C. Spaulding here and here, Asa Spaulding, Sr., and Elna Spaulding). The latter are my late paternal grandparents; their papers are stored in the Duke special collections library.
Asa And Elna Spaulding Papers, 1930-1983. ca. 36,500 items
Nationally acclaimed and internationally recognized businessman, Asa T. Spaulding Sr. (1902-1990), was president of North Carolina Mutual Life Insurance Company--one of the premier black-owned financial concerns in the United States and a keystone among the institutions that established Durham as the "Black Wall Street" during the early decades of the twentieth century. Spaulding was a leader in the insurance industry and was the first black actuary in the United States. He was an advocate for African American economic development and served as an officer in various business and insurance associations. In national politics, he was an advisor to Presidents Truman, Eisenhower, Johnson and Carter--advocating for civil rights and economic development for black Americans. He participated in several White House conferences and was appointed to a number of presidential committees. Notably, he was a member of U. S. delegations to the UNESCO conference in New Delhi, India in 1956, and to the inauguration of Liberian President William V. S. Tubman in 1957. On the local level Spaulding was a civic leader and devoted member of the White Rock Baptist Church.

The Spaulding papers are comprised of personal and professional correspondence, speeches, photographs, clippings, awards, printed material, and business and legal papers relating to Asa Spaulding's numerous business, religious, civic, educational and political interests. The collection is particularly rich in documentation about political and community development in Durham, North Carolina.

Complementing the materials on Asa Spaulding is material concerning his wife, Elna Bridgeforth Spaulding. A civic leader in her own right, Elna Spaulding founded and served as president of Women-In-Action for the Prevention of Violence and Its Causes, a community development and charitable organization in Durham. She was elected to two terms on the Durham County Board of Commissioners, served on numerous boards, and was active in such organizations as the Durham Day Care Council, Lincoln Community Health Center, Duke Medical Center, North Carolina Central Museum of Art, and local chapters of The Links, Alpha Kappa Alpha Sorority, and the National Council of Negro Women. The Spaulding papers also contain genealogical materials about the Bridgeforth and Spaulding families, and include information about the Spauldings' family life with their five children.
I guess some things are in the genes; over the summer I participated in a video, "The Spaulding Legacy and Oral History Project" on the history of the family, including the extended branches (see screen caps). Many family members are involved in some kind of community service, serve in public office, are in education, etc., so they wanted to capture the oral history of elders, in particular. Fun fact: I am somehow related to author and entrepreneur Stedman Graham, (better-known as Oprah's current/former?! BF). I've not met him.
Oh, you may be wondering...with the whole insurance company family business stuff, whether I'm the recipient of any largesse. The answer would be no -- and there's no giant inheritance awaiting me either, lol. I've never been particularly close to this side of the family (unpleasant,complicated divorces can do that), but I owe it to Mr. E to let him know what his legacy is on this side of the fence, since I won't be around forever, and my brother Tim, who is 5 years my junior, doesn't know much about Durham and family history.
OK, enough gabbing; here's the quick tour of some of the landmarks in Durham that were part of my childhood, certainly not comprehensive at all, but I mean come on, you'll fall asleep if it's too long...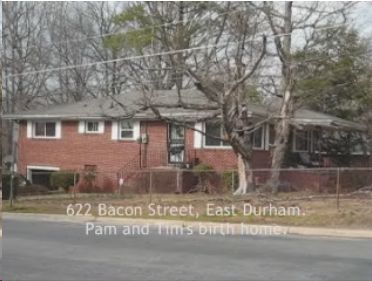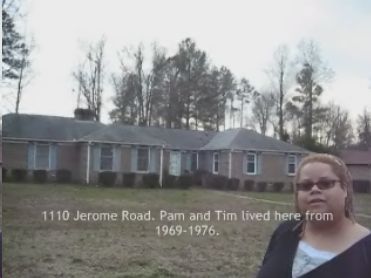 Left: the home I grew up in until about 5, in East Durham, south of the Durham Freeway (the construction of which destroyed much of the black business district and residences). The house on the right was the last home we lived in prior to the abrupt move to NYC. Long story. Have to explain that one to E. someday.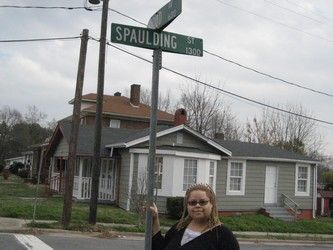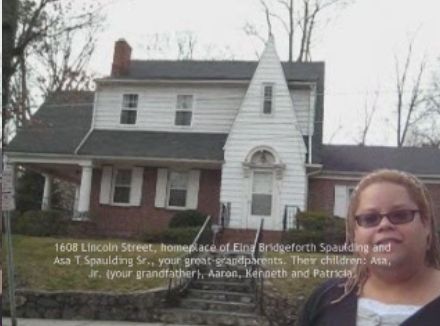 In Central Durham, the black historic Hayti district, a street bears my family's name; only a few blocks away is the home of my grandparents (right). I remember spending many a Sunday visiting and watching, of all things, Face the Nation. No Barney, Smurfs, the Wiggles or Disney Channel back then for little Pam. Politics from day 1.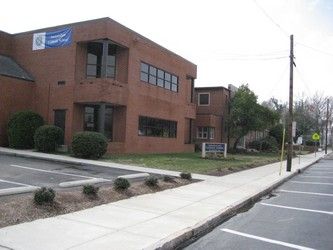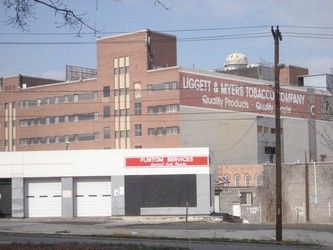 Left: Where I spent K-6 - Immaculata Catholic School in downtown. I later went to public school -- Pearsontown Junior High in southern Durham (it's now an elementary school), and then we moved to NY. Right: One of the many Liggett & Myers tobacco buildings in downtown, all eventually abandoned in the 90s, and later renovated (some still undergoing change) into business and residential use. I work in one of the first warehouses that was renovated, Brightleaf Square.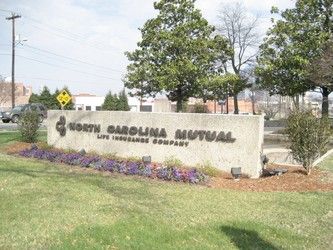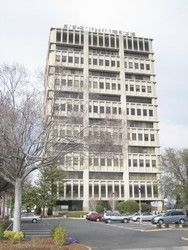 NC Mutual building, just up the hill from Brightleaf Square on Chapel Hill St. I was a baby when it opened. There's a photo out there somewhere of me at the building's dedication in the 60s, held aloft by then-VPOTUS Hubert Humphrey.