The usual disclaimer: this is a break from political banter, so if this Journey post doesn't interest you, there's the regular brew of new content on the Blend to consume…Also, for the "No Perry, No Journey" crowd – let it go. This is not the place to stir up that argument.
---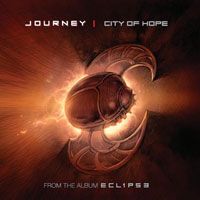 As a long-time Journey fan, I knew from the grapevine that
Eclipse
was going to be a surprise for those aficionados (old and new) that were expecting pop-rock classic hits churned out by the band.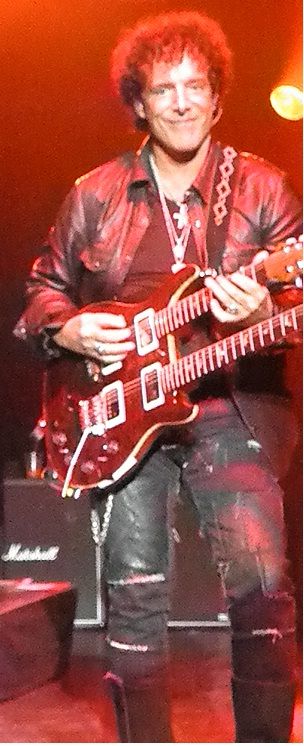 This album rocks.
And the reviews have been some of the best in the band's career, as band founder
Neal Schon
decided to take the band in a muscular, guitar-driven direction that is audacious for a legacy or "classic" rock band with a reputation as an 80s hit machine. There is no coasting.
You can stream it here
. There are also clips
at Amazon
.
I was one of the fortunate fans to see Journey debut
five of the new tunes from Eclipse in Las Vegas in February
—
Edge of Emotion, Resonate, City of Hope, Chain of Love,
and
Human Feel
, so that preview only heightened my anticipation as I waited for the CD I had pre-ordered to arrive. (BTW, all of the photos here I took at that amazing Vegas concert).
In concert, lead singer Arnel Pineda and his mind-blowing rock pipes has had to prove himself to many skeptical fans who still carry a torch for legendary Steve Perry. It didn't help that an entire CD of the last album,
Revelation,
contained re-recordings of many of the Journey classics, an arrangement dictated by Wal-Mart, which distributed the CD. That means that Journey, for all intents and purposes,
is an indy band in the U.S.
— not beholden to any record company, but sans that distribution network, thus the relationship with the ubiquitous Wally World.
The fresh material on Revelation was clearly meant to evoke memories of the band in its classic period – heavy on Jon Cain's keyboards, mostly synthesizers, and guitar legend and band founder Neal Schon slipping in his hooks and solos. Vocally, there were glimpses into Arnel Pineda's own delivery and voice, but in hindsight this was a training wheels album for him;
Eclipse is all Arnel — there's no ghost of Steve Perry anywhere on this album
. And he shines; the versatility of his delivery, his range, and notably, his power, is on full display here. It's clear that Schon and Cain (the principal songwriters on Eclipse), have found another vocal muse again; they have been inspired to weave tunes to test the boundaries of Pineda's pipes.
And oh they do
.
There are no compromises for 3 minute tunes. Aside from an instrumental that closes Eclipse, each song clocks in at over 4 minutes, and many over 6. That said, there are definitely songs primed for airplay and can easily be trimmed for a radio edit.
Before I move on to a track-by-track review, I have to note that the production on Eclipse is amazing; the textures of multiple layers of guitars, percussion and vocals are masterfully mixed, with subtleties, backward loops, feedback, delicious sounds to stimulate your ears for the sonic wails to come. It's a world away from the sorry compressed production on Revelation; its songs deserved better treatment to show off the musicianship.
Eclipse is a work of musical craftsmen at their peak – and it's good to see them peak again. It's a delight in that its new @ss-kicking, complex songs translate well live,
and
provide a different, equally pleasing listening-with-headphones-on experience on CD. Oh, and blasting it in your car is
highly advised
.
The tracks
, all by Cain/Schon except where noted:
1. City Of Hope (6:02)
2. Edge Of The Moment (5:27)
3. Chain Of Love (6:10)
4. Tantra (6:27)
5. Anything Is Possible (5:21)
6. Resonate (5:11)
7. She's A Mystery (6:41) (Schon, Cain, Arnel Pineda)
8. Human Feel (6:44)
9. Ritual (4:57)
10. To Whom It May Concern (5:15) (A. Pineda, Schon, Cain, Erik Pineda)
11. Someone (4:35)
12. Venus (3:34)
Produced by Kevin Shirley, Neal Schon, and Jonathan Cain
Recorded by Kevin Shirley and David Kalmusky
Mixed and mastered by David Kalmusky
The Band
Neal Schon – lead & rhythm guitars, backing vocals
Jonathan Cain – keyboards, rhythm guitars, backing vocals
Ross Valory – bass, backing vocals
Deen Castronovo – drums, percussion, backing vocals
Arnel Pineda – lead & backing vocals
***
1.
City Of Hope
(
*****
): Now this is the way to reintroduce the public to Journey. Created as an ode to Pineda's home city of Manila, where the band made a stop on its 2009 tour, it's the best of both worlds – an instant concert anthem with positivity at its core, and the debut of Schon's vision of Eclipse as a guitar-driven album. Ross Valory provides a pumping bassline as well. And this is still melodic rock – the chorus is infectious:
There's a city of hope beyond our fears,


Where miracles happen,


Where truth can be heard,


Don't you wanna go to the city of hope
Arnel's vocals soar with an energy that pervades the entire album. This screams to be a single. Fans do get a taste of the guitar shredding to come at the end of COH, and its intensity only foreshadows what's to come in the next track…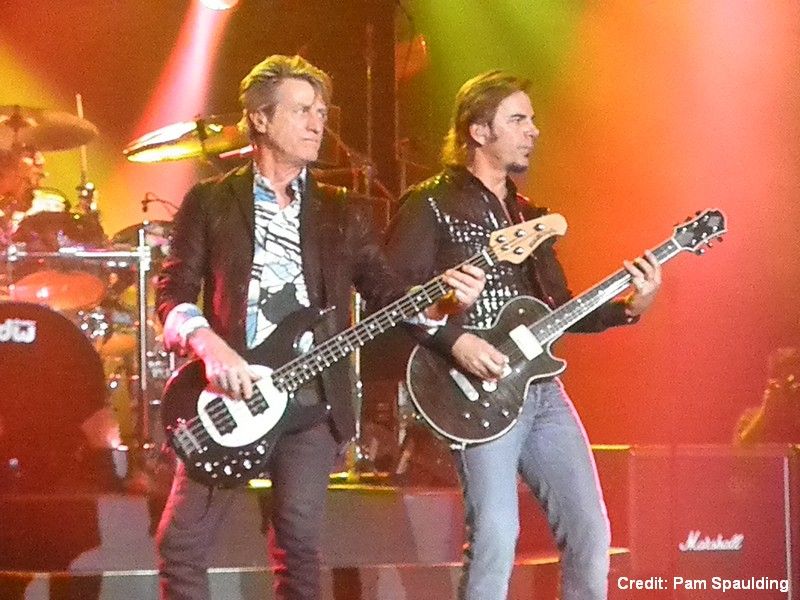 2.
Edge Of The Moment
(
*****
). Heavy guitar, slamming bass, insistent drums, dark synths, this song oozes a bold, raw sexuality I've not heard from the J-Boys in long time. Arnel even shudders a hot
Anticipating…uhhhh
… right to let you know just how intense his passion is.
With your sweet love I lose all track of time,


'Til I don't know if it's day or night.


Before it all fades into the past,


Wanna see how long we can make it last.


Come a little closer,


Into my arms.
Again, the pumping rhythm is melodic, dark, but draws you completely in. And, oh man, I was seriously enjoying Neal's use of
wah-wah pedal
(!) You wonder if the intensity of this one-two punch of City of Hope and Edge will continue…
3.
Chain Of Love
(
****
): It starts out with soft sounds back in the mix and the welcome piano of Jonathan Cain. The plaintive, pure tones of Arnel Pineda's opening salvo is served up and then replaced by the introduction of heavy, rhythm guitars and slamming skins by Deen Castronovo that encourages some serious headbanging.
Pathways in my mind that lead to nowhere


Promises of happiness that leave me wanting more


When my desire becomes a nightmare


Feel paranoia about what I'm wishing for.


If I could just let go of who I think I am


Surrender to the silence, help me understand
This is the darkest song yet, but you're kept in check with the melodic chord progressions as the intensity of the beats continue. This one really tests Arnel's pipes; he delivers flawlessly.
More below the fold.4.
Tantra
(**1/2
): Based on the number of plokkers (fans on the AP Rocks fan site) who love this song, my grade here is not going to be popular, but it is what it is. The momentum created by the first three songs on Eclipse is completely halted by this ballad. Not that the Journey ballad is unimpressive. Arnel Pineda puts his heart and soul into Tantra, but my first thought when I heard the song was "
this belongs in a Disney animated movie a la The Lion King or some such
."
Old beliefs let us down, many roads lead to heaven.


One love, many faiths all share the world in search of grace.


Across the universe, the same force that moves the earth's


In my heart, makes me whole, wash my doubt and fear away.
You know, a grand, sweeping majestic song about the universe and our place in it. AP's vocals are so exquisite, almost too exquisite. I tell you what – it's proof that he'd kick ass on the Broadway stage belting out difficult songs.
But for me, Tantra doesn't belong on Eclipse.
5.
Anything Is Possible
(
*****
): Sheer perfection. This track returns to a more classic Journey sound – love hearing the piano Jon. Anything is Possible reminds you how Journey can hit the sweet spot with chord progression, melody, harmony — and Neal Schon goes right back into hitmaster guitar solo mode effortlessly.
Try to break my brick, throw away the stone


Take a chance on something, build a castle you call home.


Live for the moment, you can't put into words.


Don't keep a song inside, let your voice be heard
And drum monster Deen Castronovo, who gets to let loose on the hard rock songs on Eclipse shows he can ratchet his power skins down to do straight pop-rock on command. AIP deserves to be a hit.
6.
Resonate
(
*****
): What can I say? This is the best produced track on the album. In concert this is a slamming, pumping song that the audience instantly got into in Vegas, but on CD the subtleties and choices that the band makes in painting an aural picture for the listener are stunning. Again, Ross Valory's bassline is up front in the mix, giving the song an instant sensuality; the mix of harmonic backing vocals slide into Arnel's lead vocals as he weaves the lyrics around the music.
Feel your presence all around me


On the same frequency


It's all our love can be when we


Resonate… Resonate
A darker sound indeed, but it could easily be a hit for ears in need of relief from the autotuned pop pablum out there now.
7.
She's A Mystery
(
*****)
: Now this kind of change of pace, unlike Tantra, is a satisfying, surprising confection. One of the two songs contributed by Arnel Pineda, it evokes the singer/songwriter songs of the '70s — the crystal clear acoustic guitar, sweet harmonies of the backing vocals. The lyrics are equally sweet (and there's a reason for that, as the mystery unfolds.
(Chorus): Tattooed on a sacred place, she's a mystery (she's mine)


Wondering if she loves me; she's a mystery (so fine) She's a sweet


Confusion


(Verse): She's my zen, my own, my only Shangri-la


She's my French champagne, she's my ooh la la
As you wait for the bridge, the guitar strums along, with swirling synthesizers ushering a change of tempo…and then in a complete, unexpected shift, Neal explodes in with a shredding guitar, opening that Pandora's Box mystery of a woman…Arnel switches to hard rock mode vocals that just blow you out of the water. Incredible.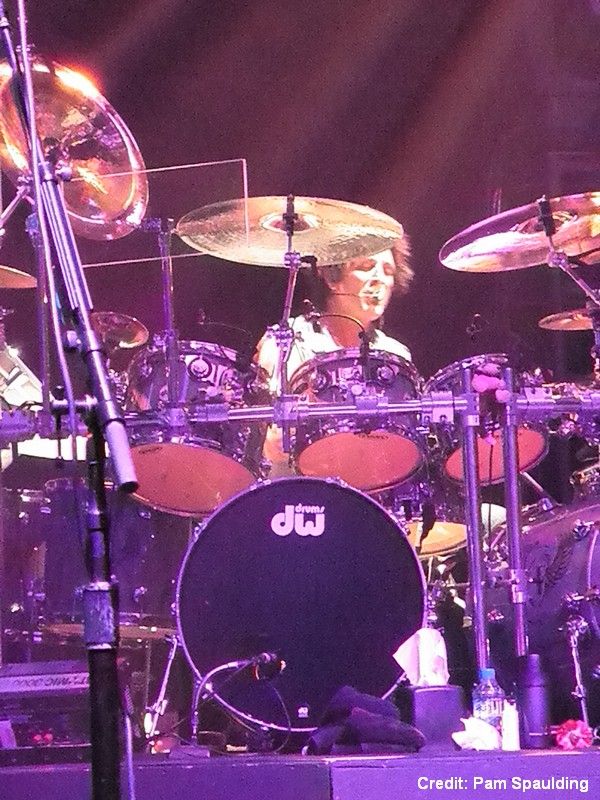 8.
Human Feel
(
****
): This is an ambitious song – and a showcase for Deen Castronovo, who drives this song with a syncopation that is tribal and unusual. And the Hammond organ — thank you god, for its return on Eclipse!. (An aside – when the band introduced this song in Vegas, I was in the third row and what was hilarious is that the people in two front rows were completely flabbergasted by the rhythm – they didn't know how to dance to it.)
Deen's drumming and Arnel's vocals reach an almost excruciating, insistent four verses before going to the chorus, the lyrics reflecting equal frustration — with technology:
In a jungle of hardware and mass frustration,


Overloaded with way too much information these days.


I'm needing more than the virtual world I'm seeing.


Could someone just let me talk to a live human being?
The release of the chorus is accompanied by a change to a familiar tempo/beat that drives to the chorus and then returns to the pumping tribal rhythm and Neal's hot licks.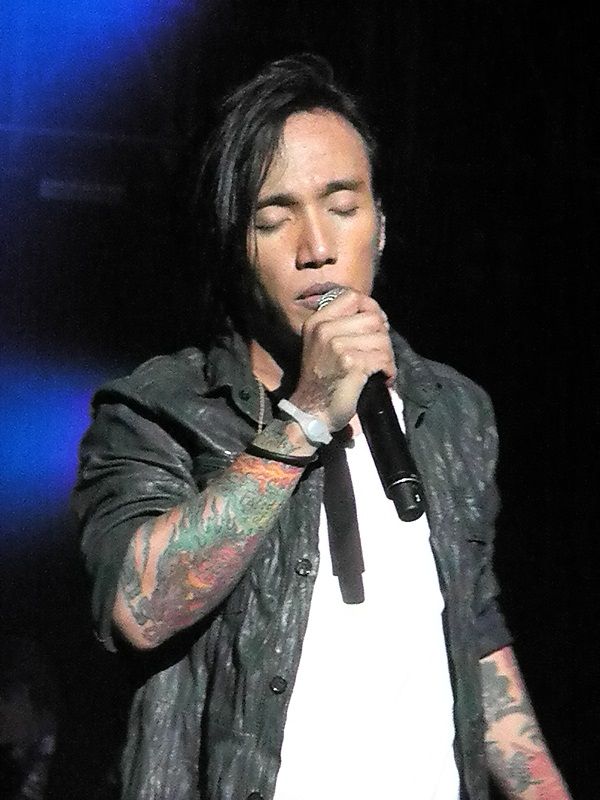 9.
Ritual
(
***
): This is another throwback to the classic Journey hit sound, but doesn't satisfy on the same level as Anything Is Possible, but it's serviceable filler. Arnel's vocal delivery is one of the strongest on the album – he takes on long and difficult notes here, but the song's just a tad too formulaic.
10.
To Whom It May Concern
(
****
): The other song contributed by Arnel Pineda (and his brother Erik). This is a sweeping song sprinklied with spiritual references. The guitar and synth melody line are engaging (so much so that the coda is recalled in the last track, Venus). Arnel Pineda's earnest delivery is what keeps the song from drifting too far into overly sentimental territory.
I think this is one of the key talents Arnel has brought to the table on Eclipse – his interpretation of the lyrics throughout Eclipse is one of the reasons you want to listen to the songs over and over to see how both he and the rest of the JBoys forge new ground on their own terms.
11.
Someone
(
***1/2
): A last return to classic Journey pop on Eclipse. It's another "think positive" love song with traditional verse/chorus/verse/Neal solo structure, but it's a more pleasing use of the formula than Ritual.
Once you let someone love you


You'll find out an open door


A place in your heart you've never been before


Believe it's never too late


For someone to set you free


Once you let someone love you
What this sets the listener up for is a reprise of the melody from To Whom It May Concern with the last track…
12.
Venus
(
***
) An instrumental that is short enough to be enjoyable as you hear Neal's artistic noodling on the guitar, making it wail, scream and weave throughout the melody. It's a nice endcap to Eclipse.