By Pam Spaulding ("Panda", JR Team Captain)
(Originally published 12/11/2014, updated 11/13/2015)
The stellar timeless songwriting, musicianship, harmonies and tenor-based vocals of Journey are easily recognizable, embedded in cultural references, and are celebrated by millions. Many are enamored of not only the hits, but the deep cuts and varied textures and genres that the band dared to dip into over the decades -- blues, R&B, rock, and pop. It's no surprise that among those who grew up with the iconic music are now musicians and vocalists inspired to pay tribute to Journey by performing the work live -- including the members of
Journey Revisited
.
Journey Revisited's lead singer
Jeff Salado
asked me what I thought about seeing the band for the first time live -- when I came out to California in November 2014.
With experience as a journalist, photographer, and videographer, I decided to give him feedback/insight that he was unlikely receive from the average concert-goer. What was surprising is that once he read it, he asked me to recast what was a private email into an article because he wanted to share with you all what it's like to perform through my lens as a writer, a fan and good friend.
Prior to that November
Black Oak Casino performance
, I had only seen Jeff onstage via video. where it's clear that he has great stage presence and stagecraft -- he interacts with fans, and connects them to the music of Journey. I did, however, have the good fortune to spend time with him prior to the concert, hanging out in his environment -- seeing the offstage Jeff Salado.
Most fans never get to interact with that Jeff - the goofy, funny, nerdy, lovable guy who's also capable of conversations of great intellectual depth and thoughtfulness. A dude who loves talking Journey from the perspective of a singer (of course), muscle cars of all brands and styles, boxing, history, science and classic TV. Jeff possesses a noggin full of useless trivia like myself that makes conversations incredibly interesting. That guy isn't on stage.
The joy in live performance is imperfection, the choices of the artist ensures that each performance is uniquely owned and delivered to the audience is a key goal. Audiences continue to seek out the golden tones, the rich warmth and raw emotive draw that Steve Perry evoked during his tenure with Journey. The tribute bands yearn to satisfy that thirst for melodic sound that moves fans of Journey's classic album oriented rock.
The challenge for Jeff Salado, a huge Perry and Journey fan, is to keep that level of quality, fidelity and emotion pouring forth each gig to connect with the music and channel that energy to ardent fans of the aural benchmark set by Steve Perry.
So my presence at Black Oak as a working professional (to
capture photos
and
video
) allowed me unique access to observe passively on multiple levels. After the show, I had
a lot to say about that experience
, but not in detail, or with a critical eye. So here's my perspective on the Journey Revisited lead singer...what you see and experience is more than meets the eye.
The Professional Jeff
This is the serious guy you see at the venue working on sound check, trying out an ear monitor, or the green room discussing band plans for the year. He's quite relaxed but carries a level of command of the room that telegraphs business. After all, this is a job for all of them. They are all conscious of wanting to be at their best to please the audiences that eagerly await hearing classic Journey.
It's also reflected in the photos in the Green Room. You'll notice that the other guys are relaxed, focusing on their own warm up routines, but Jeff's presence set the tone for the evening, loose but mindful of the task at hand, for instance, inquiring about adding songs to the roster for the next year, and how the band can accomplish learning them by tour time.
There were a couple of unusual circumstances that night -- I was introducing the band on stage, and they were celebrating guitarist Val Popovic's birthday. So Jeff and Val were holding court in discussions, considering whether to sing a version of "Lights" based on the studio recording or a live version.
Jeff's ability to stay motivated in adverse conditions is remarkable; that night at Black Oak was an unusual perfect storm to vex a vocalist -- the smoke in the casino was overwhelming due to a group that arrived and proceeded to smoke out the capacity of the air system to clear it out. Cigarette smoke flowed freely into the concert venue space.
It's enough to shake any vocalist - the issue became so problematic that Jeff, during the performance, twice asked me to retrieve lozenges from the dressing room in a valiant attempt to keep his vox from being affected by the smoke. Everyone in the venue was feeling the horrible burn. It is also not surprising how well Jeff pushed past it, making slight vocal changes and choices to accommodate the uncertainty of his ability to deliver certain notes -- a hallmark of a self-aware vocalist. Jeff's had to endure enough uncertainties and frustrations and always forged ahead as the professional that he is. But he has remained humble.
It's rare for an artist to talk about an off-night; it's a vulnerability that many won't admit to. But the reality is that we're only human; and Jeff wanted me to share that it's something he's not ashamed of; we all have days where we come up short for whatever reason. It's no different for entertainers -- their skills and performance are dependent on tissues that get strained by smoke or hurt by allergies. The show must go on.
And consistency is key to any tribute band. After all, JR has to perform gig after gig to represent the peak of Journey live. Even that stellar band had off nights. Journey Revisited has to replicate landmark sounds such as the 1981 Live in Houston concert that Jeff models some of his Perry vox from. This consistency is why
JR won a coveted Modesto Area Music Award for Best Blue Collar/Cover Band in 2015
.
David Hawkes (drums), Jeff Salado, and Val Popovic (guitar) picked up the MAMA at the


Modesto Area Music Awards for Best Blue Collar/Cover Band. Oct 20, 2015
The Onstage Jeff
This aspect of Jeff Salado will be familiar to many of you. My first reaction to seeing him onstage in person (
after doing the band intro
I had to quickly get offstage and get down in the venue to see the rest of Escape) was
"WOW
." Hearing his voice live with my own ears -- it was literally going from mono to stereo for me, and I was having a hard time concentrating on my photography during that number; I had to keep stopping to look up at Jeff to reconcile what I was hearing with seeing him up there on stage with the guy I just had lunch with, cutting up with friends.
And, as I mentioned above, I saw him on what he considered an off-night because of the smoke affecting his breathing, challenging him when hitting/holding certain notes that he normally does with ease. He also was mindful about some mistakes in timing on certain songs.
These are things the vast majority of people in the audience didn't notice or care about. But the perfectionists of Journey Revisited always want to deliver 110%, Jeff included. For Jeff that means focusing on his stagecraft and appearance as well -- he told me
, "it's not only the music, it's how it's being presented and looking our best and feeling our best is doing our best."
For me, imperfections are part of the beauty of live performance though; you're seeing the marvel of the gift of the human voice, a fragile instrument with miraculous ability to produce sounds so rousing, so moving. Not everyone is as blessed with the physical goods to produce the notes that Steve Perry did, but to have the skill of controlling that instrument to project sound with such clarity and power and emotion is one of Jeff Salado's natural gifts that he works hard to hone for the audience.
Photo by Jeff Hall
The band digs deep to deliver no matter what the conditions are.
The Journey catalog is already a high bar to clear instrumentally; and the Bay Area arena rock supergroup's era that is the most in demand to hear live is the Steve Perry years (1978-1996). Gig after gig, those classic, stratospheric vocals have to be recreated at an almost impossible standard -- one that even Steve Perry couldn't reproduce consistently live, simply because we're talking about the human voice.
The difficulty of being a lead singer is that you can't replace pipes like guitar strings and every night, every venue is different environment. The one thing I wish for, as part of the band's support infrastructure, is that I lived closer to see JR live more frequently to enjoy the uniqueness of each performance, the nuances, the choices made (I live in NC).
The "It" Factor
It makes for a more informative piece to discuss this section not in a cheerleader "isn't Jeff cute and he sings great" review. It means so much more to describe how the performances work, and how that the forces align to deliver a special experience for fans, casual and die hards alike.
For me, seeing Jeff the performer up there, the offstage Jeff ceases to exist; this onstage Jeff delivers a huge dose of liquid mojo out there for the audience to drink in. What is it?
*
Vox
- His pipes are amazing; I could hear that despite the challenges that night at Black Oak. One video, I watched over and over afterwards, was
Too Late
because his vocals speak to me in that song, and the band is so tight on it. I think many fans find the sweet spots in their favorite Journey songs that Jeff sings that you walk away wanting more. His range, his power, and his strong Perry-like vibrato and tone are what sets him apart from other Journey tribute singers.
He also shares with Perry a gifted fine ear for pitch -- hearing the notes with clarity and able to reproduce accurately on demand. That takes much more work than what average people can accomplish without major effort, but it is second nature to the Journey Revisited vocalist.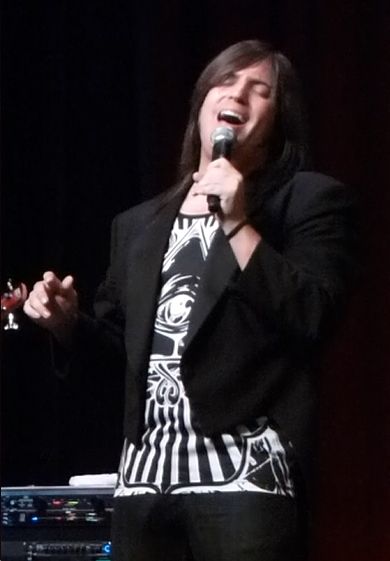 After a gig, Jeff always has singers and vocal coaches come up to ask how he does it. But sometimes it really looks like he isn't really thinking about it. They have no idea that Jeff has zero formal training, and employs no regular routine to maintain those golden pipes. He's like a car that never needs an oil change.
---
"I have NO regimen, I'm pretty much a fly-by-the-seat-of-my-pants singer."
-- Journey Revisited lead singer Jeff Salado, on whether he has regular routines to maintain his voice
---
But he knows that to preserve what he has will take more work down the line.
One thing that is quite noticeably different about Jeff in comparison to Steve Perry is his speaking voice. Perry in older interviews has an almost alto, soft voice; Jeff is most definitely a baritone and a harmonious, deep resonant one at that. It's immensely pleasing, though it's not called upon for the Journey catalog. He would make a great DJ...
*
Emotive ability
- He puts himself into the song; Jeff has the ability to "perform" emotion even when he's not feeling it that night. Even though I knew he was having a rough go of it (i.e., the lozenges run), when I would watch him, I felt the songs, I felt the resonance and connection to them. That's a hallmark of a pro.
*
Physical performance
: Jeff gives it all onstage -- often at his own expense in post-gig pain. I know he wishes he could jump off the riser every night, but no one takes the Perryisms and runs with them in spades like he does. He projects a significant bodycon (body confidence) onstage.
JR fans are roused by the music as Jeff performs the classic hits no longer covered by Journey proper in concert. He brings not only the essence of Perry's notable energy to the stage, but Jeff (and his many female fans aren't hearing any news here) brings a considerable dose of his own mojo that he naturally projects and and overlays on top of it. It's why he has such a tremendous...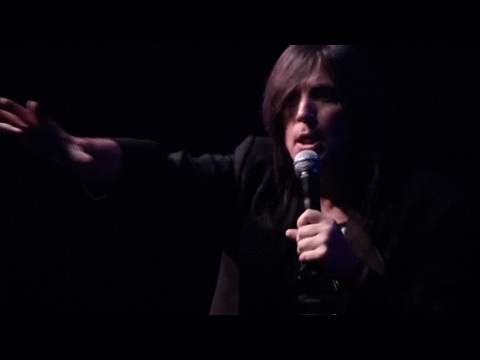 *
Audience connection
- If you were standing near that stage, which I often was, I was bowled over at how dynamic and powerfully he draws people to him. When he looks directly at people during a song that energy flows to them, and reflects back. It's exciting to experience.
Several times he looked at me as he does to people in the audience all the time
. When I saw the images, as I was going through the 800+ shots taken during the show, I could actually recall that energy. It's why audiences come back, and want to come back. He connects as an artist.
Jeff on what he is trying to project:
"I want people to feel special because they are; when they go home after a JR concert, I want them to feel that there was a connection directly with me in the hope that we'll see them at our next concert. We do everything we can to make each show even better."
After a decade of covering public figures and politicians for a
nationally read, influential political blog
, I can honestly say
I've seen few people onstage or out in the political realm with the kind mojo Jeff Salado has
. Jeff has the ability to make everyone else in the room disappear when he looks at you.
You feel like you are the center of his universe, with undivided attention, whether it is for a few seconds, or a few minutes of conversation
. He makes that person feel special in some way. There's no way to create it or recreate it. This is priceless when interacting with fans after a gig. He gives it all in those moments.
I've had discussions with Jeff -- amusing ones at times -- about this energy and its impact on women. It's there onstage, but it's also there when he's still in stage persona and interacting with people of all persuasions. He obviously knows how to turn on the considerable natural charm, but it's that extra something special that just flows from him that is non-denominational -- many rock stars have it like Steve Perry, Mick Jagger, and Robert Plant. But he projects it earnestly and with approachability.
Many in the audience can feel that energy from an artist, but they just can't quite put a finger on why they are drawn to that person onstage or articulate it, in this case that mojo's coming from a Journey tribute band singer named Jeff Salado. He has "It" and knows how to use it, whether innately or that he's developed it over the years through self-awareness of it.
Since that Black Oak concert, I've worked with the band at gigs at the
Covina Center for the Performing Arts
(Los Angeles in a theatre venue), Victorville (the
San Bernardino County Fair
on a huge pro-production outdoor stage), and in San Jose at
Rockbar
, a 1,000-capacity nightclub with a pro-level lighting/sound environment). They throw it down in every venue and provide huge opportunities to capture dynamic photos, audio and video for fans who don't have the ability to attend.
Like Perry, Jeff walks a tightrope each gig without a net, no Auto Tune, no lip sync. And the songs are not dropped a half-step, they are performed in the merciless standard E tuning. It's Jeff's vocal instrument out there, often without support for adequate rest, or experiencing weather conditions at gigs where temperatures may exceed 120 F onstage, as was the case at
Kings Fair in Hanford, California in June 2015
. And that is the story of so many vocalists at the working tribute band level. And unlike Perry, who as the originator of these songs had the latitude to try alternate interpretations live, tribute singers like Jeff Salado have to pick a live or studio version that is familiar to the audience and try to match it, note-for-note each time.
I told Jeff to read this from time to time to remind himself what sets him apart as a performer and professional from so many others. You'll have to weigh in to share your thoughts about what Jeff brings to a Journey Revisited performance.
And thank you, Jeff, for being so willing to open up and share!
--Panda
Journey Revisited - Loving You Is Easy - Rockbar Theater - 10/...
Journey Revisited - Loving You Is Easy - Rockbar Theater - 10/16/2015. Prepare to be wowed! Click HD to see in high-def.http://www.facebook.com/JourneyRevisitedhttp://www.journeyrevisited.com#journeyrevisited #journeytributeband #tributeband #rockbar #like4like #instadaily #instagram Rockbar Theater
Posted by Journey Revisited on Thursday, October 29, 2015