The usual disclaimer: it's an unusual break from political banter, so if this off-theme Journey post doesn't interest you, there's the regular brew of new content on the Blend to consume…
---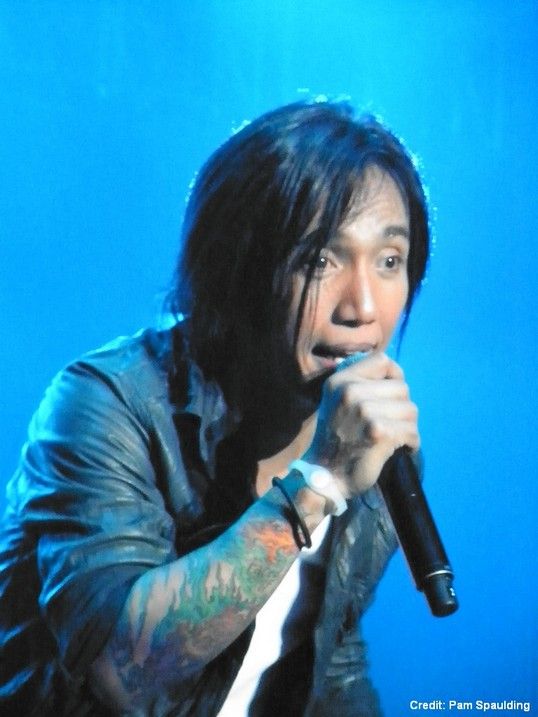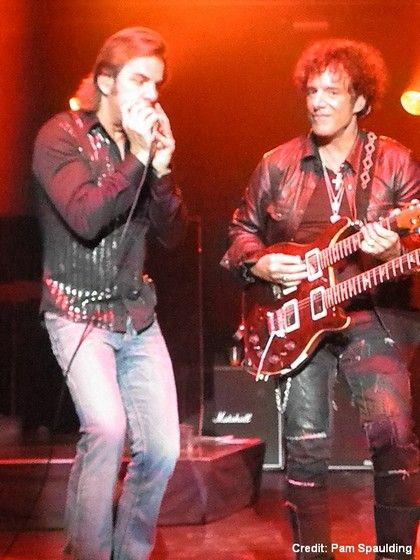 Let's just say that I'll be right up front when Journey comes to North Carolina in August (and go to a couple of other cities).
The concert was THAT good
. Of course most fans would say that, but the energy Journey has playing live has always far surpassed its studio output, and this is absolutely the case. This was my first in-person concert, though I've been a fan since the late 70s. Sitting in a third row seat with a fellow friend
who flew 24 hours from Japan
to see this show at Planet Hollywood – Las Vegas, it was almost beyond belief to be that close to the band. And she's seen Journey 20 times, the majority of the concents with legendary frontman Steve Perry. Sachi said she was blown away last night by Arnel's performance.
As you can see by the photos (and I ended up with over 300+ fantastic shots), it was an incredible view. All of the guys in the band looked fit and road-ready; it's going to be a looong tour into next year. There's nothing like being able to make eye contact with
Arnel Pineda, Neal Schon, Jonathan Cain
and
Ross Valory
(sorry to say, I wish it were possible with drummer
Deen Castronovo
, who is a complete monster on the skins and has an angelic voice) while they jam to five completely new tunes that they debuted from the forthcoming "Eclipse" CD; it drops on May 24. (
NOTE
: See the setlist – and video of the five new songs – below the fold.)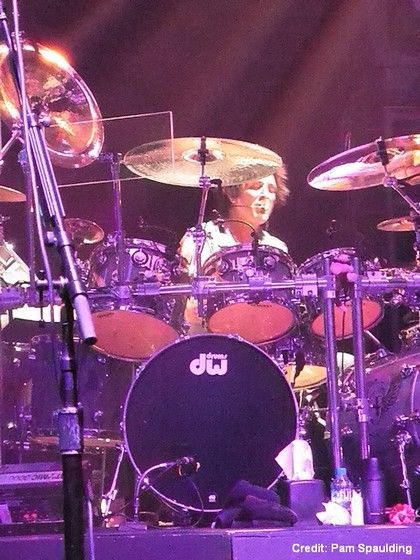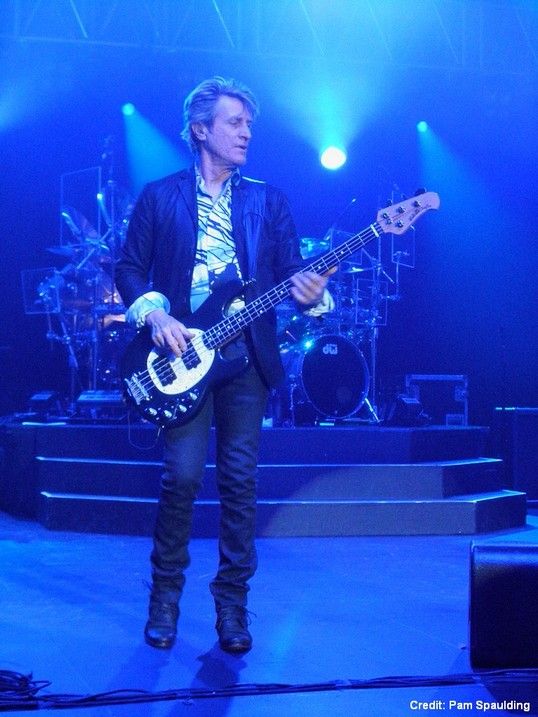 In interviews prior to the concert, people were warned to expect a darker, heavier sound and theme to the new songs – and that's quite true of
Edge of Emotion, Resonate, City of Hope, Chain of Love, and Human Feel
. However, fans won't be disappointed –this is harder stuff, but it's still melodic Journey at its core.
The good/phenomenal
:
The concert was in standard tuning (E, vs. E-flat): Glory, be. This was huge for fans with the ear to discern the difference; the songs have much more vitality when not played a half-step down. The big downside is that on a two year tour, it's almost certain the band will drop to E flat to preserve Arnel's voice.





All of the new songs kick ass. And despite songs with longer running times than the average single, my pick that is the most radio-friendly and sure hit — if it gets played by DJs — is Resonate. I can easily see Edge of Emotion and City of Hope charting well – there are a lot of album oriented rock (AOR) fans that are hungry to hear this kind of music.



Arnel Pineda Rocks. There is no doubt. Any naysayers at this point have to give props or they are just holding serious personal grudges, and not judging talent. Arnel's pipes are married to the new material and to Neal Schon's harder licks on the new tracks. And props to him for being so generous to fans – I actually got a chance to speak on the phone to him after the concert.




The fans rock: I was welcomed into the loyal online Journey fanbase fold prior to the concert. Many thanks for your kindness, enthusiasm and sharing your stories.




Deen Castronovo gets to go wild on some of these new tracks. LOVE IT, Deeno.




Good mix of old and new(er) tunes: A few songs from Revelation got a workout, thankfully, and the monster hits from the past are there.




The seats and the venue. Um, yeah. There's no going back once you've been up front to see the band. The Planet Hollywood venue is not ginormous, and the acoustics were great.




The volume: Mercifully, I didn't need earplugs, even though Journey rocked hard. The reason that I can report this is because the opening act, Night Ranger, prompted me to put in the plugs that Kate, my personal audiologist and spouse, told me to bring to Vegas. Rocking hard doesn't have to be painful. Thank you, Journey.
The not-so-good
(though these are subjective, of course):



Stage setup: Pretty spare, spartan; other fans seated further back said the lighting was excellent; when you're up close, that's not quite as apparent.




Not enough Deen: While he gets ample time to show off his dazzling work on the skins, he only had 2 lead vocals – Mother, Father and Keep On Runnin'; Still They Ride was dropped. And the other obvious downside is he's behind the kit the whole time, so it's hard to see him when he's singing.




If you came for ballads, you'll be disappointed: Aside from the must-plays – Open Arms and Faithfully, the soft stuff has been packed away in favor of the rockers. I like both, and generally the harder stuff is played is even heavier live. BTW, one song missing that rocks hard and was missed dearly — "One More" from Trial by Fire — that would have been a great addition to this set.




Don't Stop Believing. I love this song, but it's been way played out. Also, the new coda was not as dynamic as the one on the last tour, so I spent my time focusing on taking photos. I guess the Glee crowd has to be tossed this bone.
That's it for now; I do have more to say, but I have to check out and catch a plane back to the real world in a few. I'm looking forward to the summer so I can catch the J-Boys again.
The setlist for Vegas
(vid, via hardcore fan RipRokken):
Separate Ways
Edge of the Moment
(new song)
Only the Young
Ask the Lonely
Never Walk Away
Send Her My Love
Resonate
(new song):
Stone in Love
Keep on Running (Deen)
City of Hope
(new song)
Lights
Open Arms
Chain of Love
(new song)
Mother Father (Deen)
Escape
Guitar/Harmonica jamming – Neal/Jon
Wheel in the Sky
Human Feel
(new song)
Be Good to Yourself
Faithfully
Don't Stop Believing
Encore:
Anyway You Want It
Lovin', Touchin', Squeezin'