As I'm typing this I am onboard the second leg of my flight from RDU-ATL-LAS, around 12AM ET. I was so angered by the
filing of the marriage amendment bill in NC
on Tuesday that Ms. Cheepy Blogmistress paid the $4.95 for air wireless to file my post on it. So I'll get my money's worth and get a head start on this much more pleasant topic
.
---

Your blogmistress is traveling to Las Vegas to see her favorite band,
Journey
, in concert at Planet Hollywood on Wednesday Feb. 23. (Naysayers can move along to the next post lest you be assimilated!) I've been a long-time fan, though unbelievably, this will be the first concert I've attended. I spent the 80s too poor, the 90s too busy working hard, and, well, most of the 2000s either doing too much day job and community work/volunteering, or, since 2004 political blogging. Heck, I didn't even know current lead singer
Arnel Pineda
joined the band in 2008; I was too busy covering the presidential campaign!
I think the wake up call to do this — a bucket list item — was the creeping physical ailments over the last couple of years. The fibromyalgia and nearly disabling chronic and unpredictable pain, the neuropathy in my feet, and in November, the hysterectomy and slow recovery that I'm still going through were all red flags.
I said to myself, "
Dammit, I better do this before I'm incapable of going to a concert and enjoying the experience
!"
So I saved some scratch, got my director to ok the trip, and paid way more than I should have to get a third row, gold circle ticket to the kickoff show. Kate couldn't make this trip, but since a little birdie told me that Journey will play in two NC cities this summer, she'll eventually get a chance to see them.
The J-Boys will play three songs from
the new album "Eclipse
", which won't be released until May 24th, so it will be a real treat to hear a taste of the new CD.
---
UPDATE
: I met a fellow Journey fan, Sachi, who flew all the way from Japan for the concert. She greeted me in the Planet Hollywood lobby.
It's also been my lucky night – upgrade to Biz class on flt, now room upgrade at PH to kick-ass view of Paris Las Vegas & the Bellagio fountains!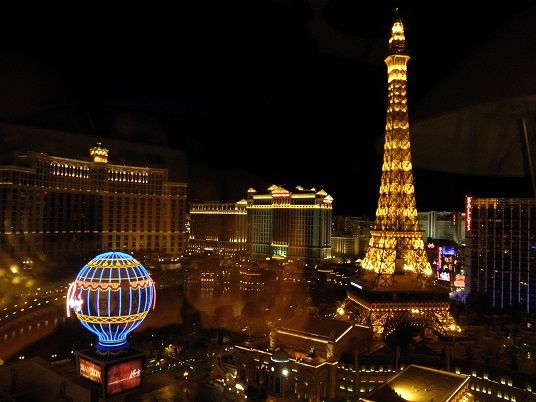 More below the fold.Axe man and J-founder
Neal Schon says
:
"It sounds amazing. I'm in love with the record, which I haven't said for a long time," he said. "I really fought for this record to be the way it is. It's a rock record. It's built for the places we're about to play. We're playing a lot of big shows – South America and Europe – and we're going to be touring the whole world on and off for two years. So with the addition of Arnel, we've become more of an international band which has been really great."
As was the case with the highly successful "Revelation" album, the 12-track "Eclipse" will be a Wal-Mart-only release in North America. This worked out well for Journey, which is, in fact, now an indy band (classic AOR bands aren't on the big labels anymore — thank the autotune gen for that — so you have to find a good distribution chain; and regardless, it's hard to beat the ubiquitous Wally World on that score).
The man behind some of the bands greatest hits to date, keyboardist and composer Jonathan Cain, gave this description of "Eclipse" to the
Las Vegas Review-Journal
:
Cain describes it as "a concept record with some spiritual themes to it. Pretty tough, hard-hitting stuff. This is Journey with big combat boots on. And helmet and a rifle."
Cain's lyrics sustain the band's hopeful themes of "searching for soulfulness and enlightenment and love and all the stuff that Journey's about." But the album also has a larger dynamic sweep with "some darker stuff in there."
"We just felt like it was time to send a message to the world about how we feel about life in general," he says.
The album incorporates Hindu principles of Tantra, "the belief that life is kind of a weave, a circle of energy, a life force that's woven with the universe in all of us. We dove deep into it."
He calls it "one of those headphone records." Should be interesting to hear that. (BTW, my wife Kate is an audiologist, so she reminded me to take earplugs to protect my hearing, lol). I can't wait to rock out to Deen Castronovo – man he's awesome on the skins, and has a wonderful voice to boot.
Blenders might recall my post from last year, "
Blogmistress music overload: my Journey immersion weekend
," where I took out some time to reconnect with the music, old and new, and delved into th inspiring backstory behind Arnel Pineda's discovery via YouTube by Neal Schon, and his rise from the streets of Manila to become an international rock star. With an enormous amount of pressure on him, he has flourished with the band with his nearly supernaturally powerful pipes and stage presence.
I won't go back over the issue of how poorly some Journey fans have handled the comparison between Steve Perry (love him too!), and Arnel Pineda; you can read that in my earlier post, but it's safe to say that the whole post-racial society claptrap is there in full embarrassing bloom.
And I thought it was about the music
.
But it is and that's why I'm heading to Vegas. To see Journey.
I don't see why people have to take sides –
1. Steve Perry isn't coming back to Journey, and if even he did, it's with 62-year-old pipes. He's only human. Get over the fantasy, people and pop in an old CD and enjoy the classics.
2. If you want to hear Journey live, and the band is
much better and rocks harder live than in studio takes
, then go see them on the road and judge for yourself (or just stay away if you cannot bear any other frontman except SP).
3. If SP releases the new material he says he has ready to record, then enjoy it; I certainly will, but don't expect it to sound like 1980s Journey.
With Eclipse this will be the second record with all new material recorded with Arnel Pineda. How hard is it for people to let go and just enjoy the Journey sound?
And I thought the rough and tumble of politics was nuts…
***
One of the wonderful things I can say about Arnel Pineda is he's genuinely grateful to his fans for their support and pops into the site's chat room to gab with the plokkers (the faithful fans over at his
web site
; I am a member).
If you're ever in the Philippines, his bar,
Rockville
, is loaded with fan-contributed and designed nameplates, art and contributed vinyl records. Bands compete in contests that showcase Filipino talent and the concerts are streamed; Arnel, prior to returning to the States for the tour, made frequent appearances at Rockville. He also believes in giving back to those who struggle as he once did, through the
Arnel Pineda Foundation, Inc
. (APFI) for street kids.
There will be a documentary released about Arnel's story, "
Everyman's Journey
."