See my full photo album here: http://photobucket.com/journeygboro
---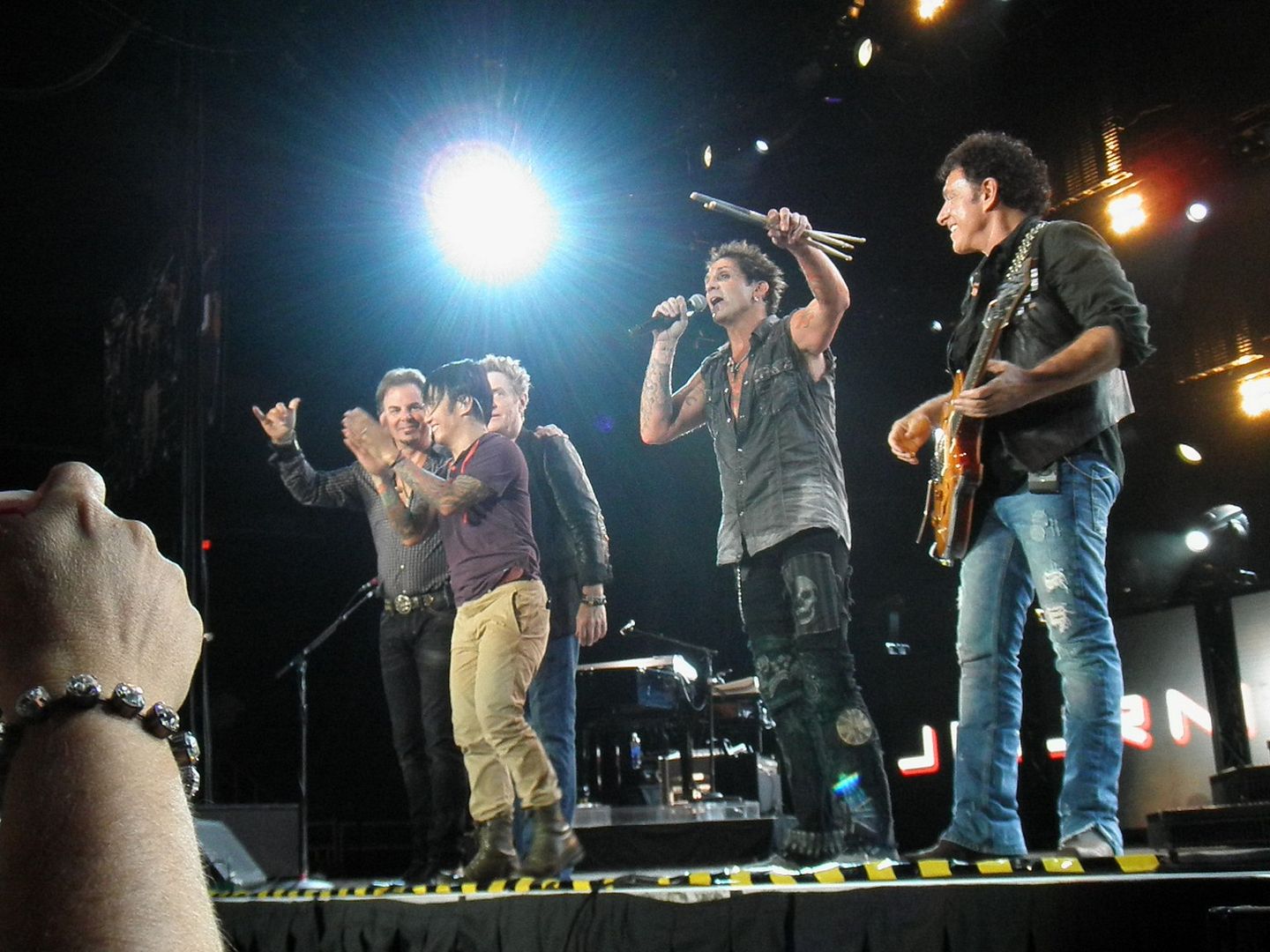 Months ago I purchased tickets to a Journey concert (featuring Loverboy and Pat Benatar as openers) in Greensboro, NC, and I was quite fortunate -- when I hopped on the Tickemaster site I was able to nab front-row seats. I tucked the confirmation email away and went about my business.
And then in late August
all health hell broke loose
. I had shooting pain from the low spine area to my hips, down my legs, and along my left outer thigh to my left foot. It sent me to the ER, and
an MRI
that showed I had
extensive spinal disc degeneration and a bad herniated disc in my lower back
. I was then put on a long wait of undetermined origin to receive
epidural steroid injection
(ESI).
I was almost in tears thinking there's no way I'd be in any condition to see my favorite band, as the October 3 date was looming. I was in such a bad way I was telecommuting since driving was clearly not an option for me. Short walks in a store completely KOed me. My wife Kate took me to
rent a wheelchair
so in the worst-case scenario she'd roll me to the Greensboro Coliseum.
Fate would have it that things would get even more complicated when I was told that I would get that spine steroid injection on
October 2
-- the day before the concert. The side effects from the surgical procedure (
and it's painful
) made it unclear whether that would prevent me from going to the concert.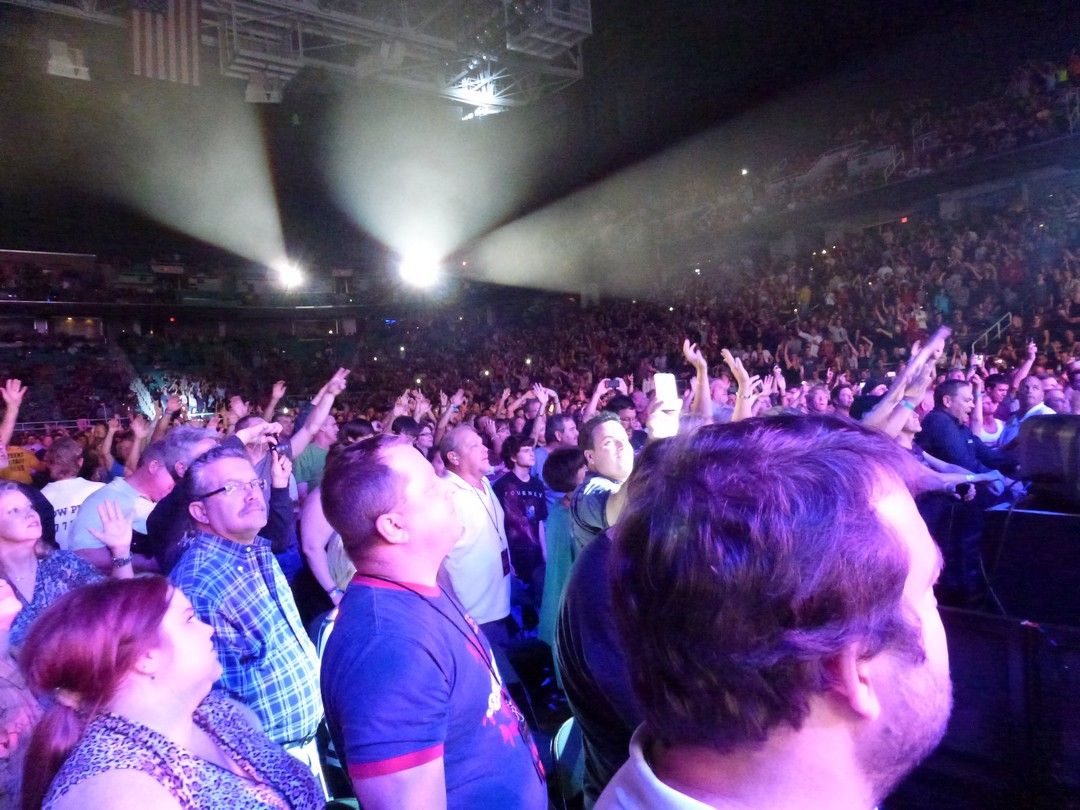 Off to Greensboro
Well, I got well-medicated to manage the pretty horrible pain and Kate folded me into the car the next day and we were off to the concert with the wheelchair in the back of the Subaru. We got a handicapped space at the venue and then I had to decide whether to use the chair. My guess that the Coliseum's pre-Americans With Disabilities Act (ADA) status meant it wasn't wheelchair friendly. I decided to limp my way in. I wasn't wrong. Narrow staircases and aisles made it a bit troublesome; what I wonder is if I did have a wheelchair, where were they going to put it since I had front row seats and they were packed in there tight.
I was just glad to get there and into the front area seats because getting out of there was nearly impossible if you're physically compromised. There was a chance I would get meet and greet for Journey and Pat Benatar, but it wasn't meant to be this time...it was on with the show.
For me, almost as fun as jamming to the live music I love is taking photos. I had two camera with me -- a point-and-shoot Panasonic DMC-2510 Lumix and an Olympus Stylus. Since I was in the front row, I was able to rely on leaning on the front rail to hold myself up most of the time while standing. It was an exercise in pain once Journey was up, but nothing was going to stop me.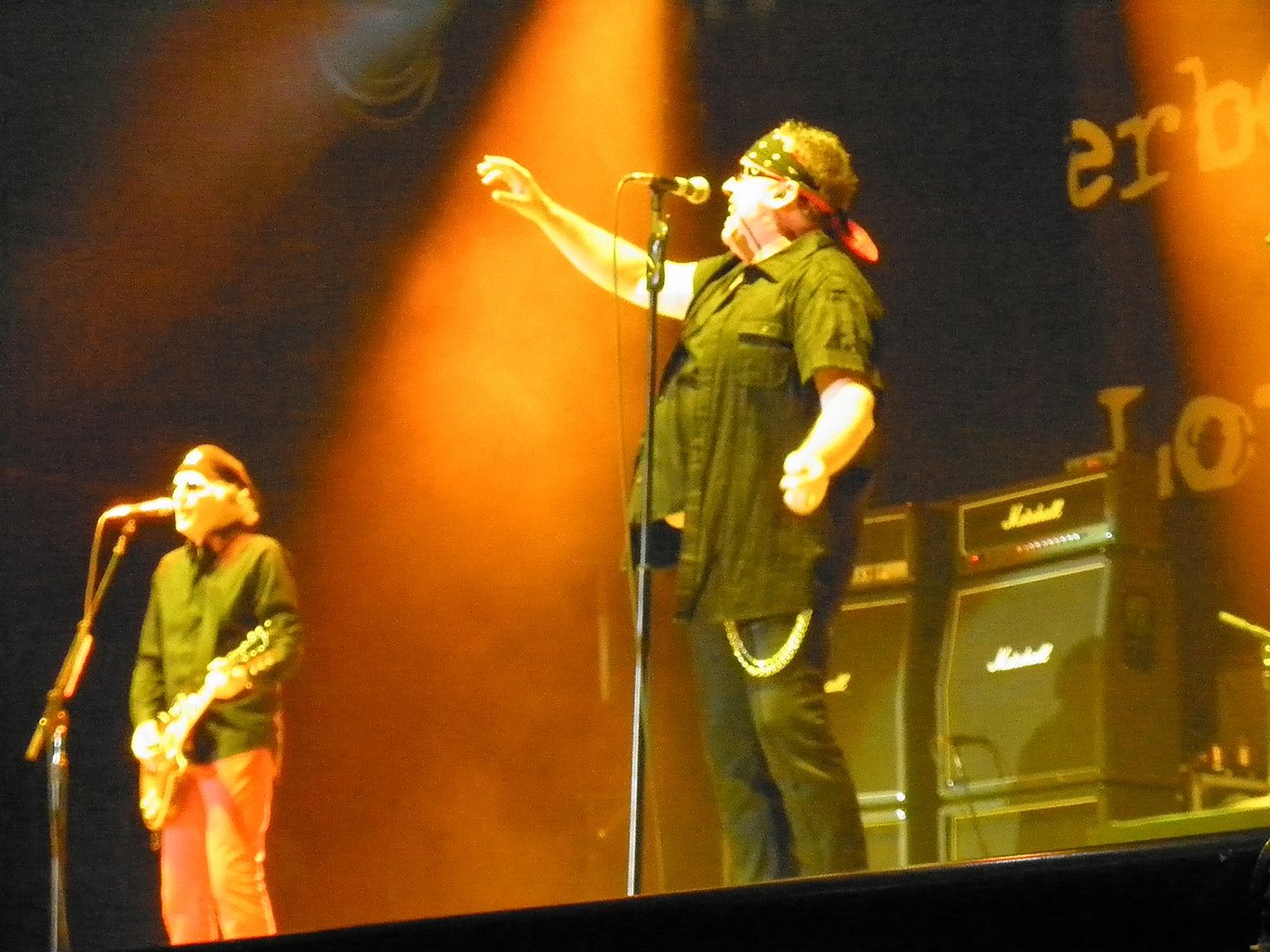 Loverboy
First up was Canadian 80s rock group
Loverboy
("Turn Me Loose" and "Working For The Weekend" you may know), made up of Mike Reno, Paul Dean, Doug Johnson, Matt Frenette, and Ken "Spider" Sinnaeve.
They did a great of warming up the crowd with hits; what was really wonderful to see was just how happy they were on stage performing - you could see that lead singer
Mike Reno
(whose voice is still fab), was just having the time of his life up there.
Here's "Working for the Weekend" --
And "Turn Me Loose" - epic 80s cheez!
At some point in the set "Spider" Sinnaeve tossed a guitar pick out that I caught:
Pat Benatar
The thrill of the night was seeing
Pat Benatar
, who simply belted out her hits in that acetylene-torch voice that she's clearly taken care of well. Onstage with her was her husband and musical partner for 30+ years, guitarist
Neil Giraldo
.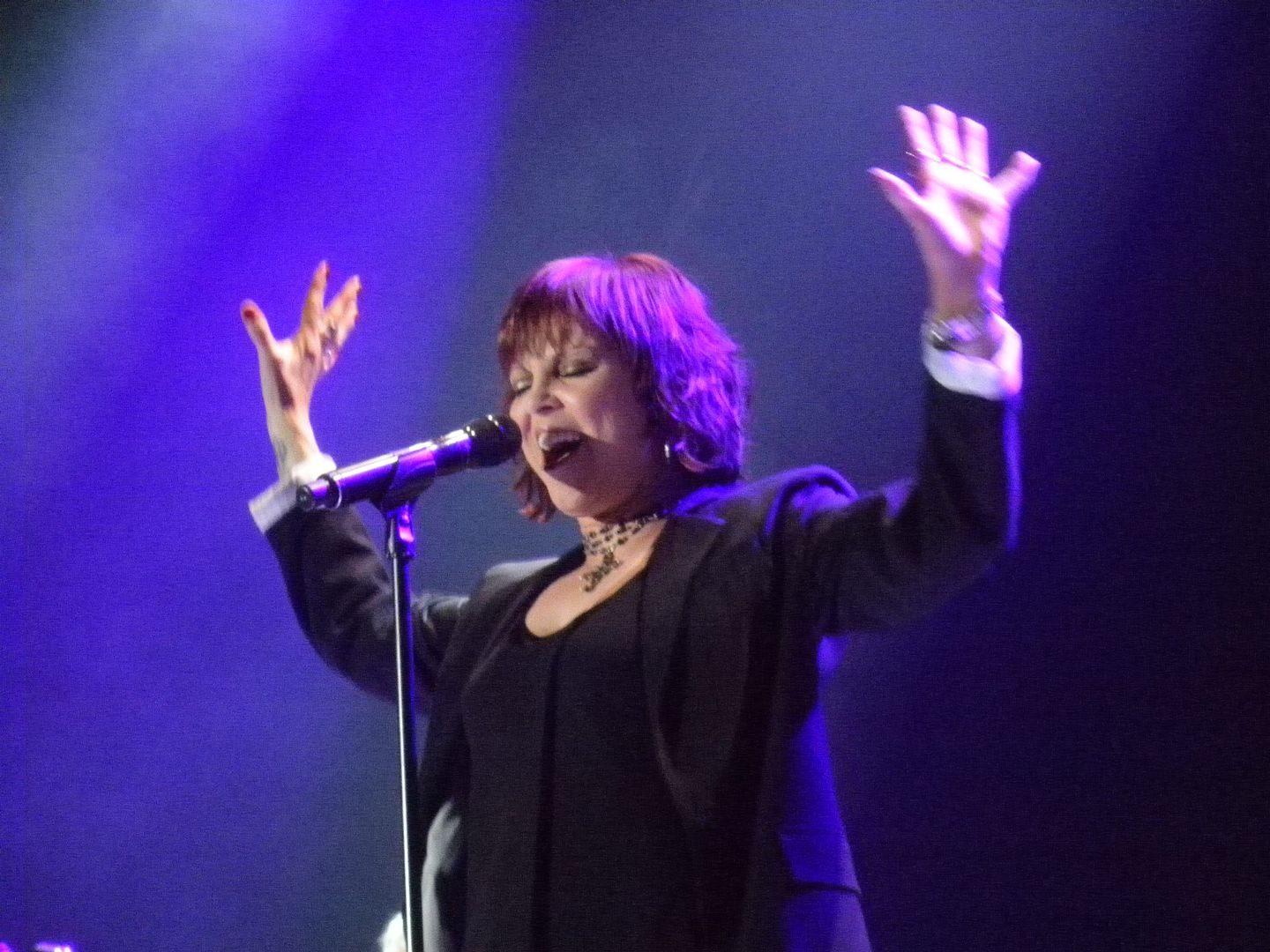 The crowd when wild on a couple of her hits - "Love is a Battlefield" was tremendous - she hit all of those high notes, and with POWER. Her classically trained voice is just amazing. And the banter between the couple was genuine and hilarious.
How about checking out "Heartbreaker" (with a little "Ring of Fire" added in)!
A real treat was when Journey's Deen Castronovo sat in on drums and pounded out "Hit Me With Your Best Shot."
Just memorable. Let's just say there was a lot of dancing and fist-pumping going on in the venue.
And it's on to...
Journey
The current Journey lineup (for non-fans and casual listeners) consists of Neal Schon (founder, lead guitar), Ross Valory (bass); Jonathan Cain (keyboards, rhythm guitar), Deen Castronovo (drums, second lead vocal), and lead singer Arnel Pineda.
Nothing beats seats in the front. I saw Journey in row 3 at Planet Hollywood in Vegas last year, then saw Hall & Oates a few months ago about 25 rows back. No comparison in terms of fan experience -- being up front (especially if you love taking photos) does matter.
The setlist: Faith in the Heartland, Anyway You Want It, Ask the Lonely, Only the Young, Never Walk Away, Anytime, Mother Father (Deen), Faithfully, Stone in Love, Keep on Runnin' (Deen), Lights, Wheel in the Sky, Escape, Open Arms, Be Good to Yourself, Don't Stop Believing, Separate Ways, Lovin', Touchin' Squeezing.
Since I'm a hardcore fan (my fave period of songs is the Perry-Rolie era), the real treat of a live concert is getting to hear lesser-known (and played) songs. Of course the band knows the bulk of ticket holders are casual fans looking to hear Lights, Don't Stop Believing, Open Arms, Faithfully and the like, so the set is front-loaded with the big hits. I actually took short sit-down breaks to recover during those numbers. Not that I dislike the popular songs, mind you, they're pretty much
done
as a concert experience for me. I imagine Neal, Jon, and Ross can sleep-play through those.
It was good to see them open with Faith in the Heartland, a Steve Augeri-era tune that Arnel re-recorded with the band for the album Revelation and it was so welcome to see Deen Castronovo doing lead vocals this time -- he has a stellar tenor well-suited for Mother Father and Keep On Runnin'. When I saw the band last year, Deen didn't get his vocal moment in the spotlight and it was sorely missed. Trading off lead with Arnel also gives AP a chance for a break -- singing the Journey catalog is hard on vocalists.
Also, when Journey is on a triple bill, that means not a lot of play time left for old nuggets. One was Anytime, which appeared on the album Infinity that featured shared vocals between Gregg Rolie and Steve Perry; it's handled soulfully now by Jonathan Cain and Arnel Pineda. While the masses in the Coliseum didn't leapup for this one, the fans in my section were up on their feet and
stoked
when it started -- and knew the lyrics by heart.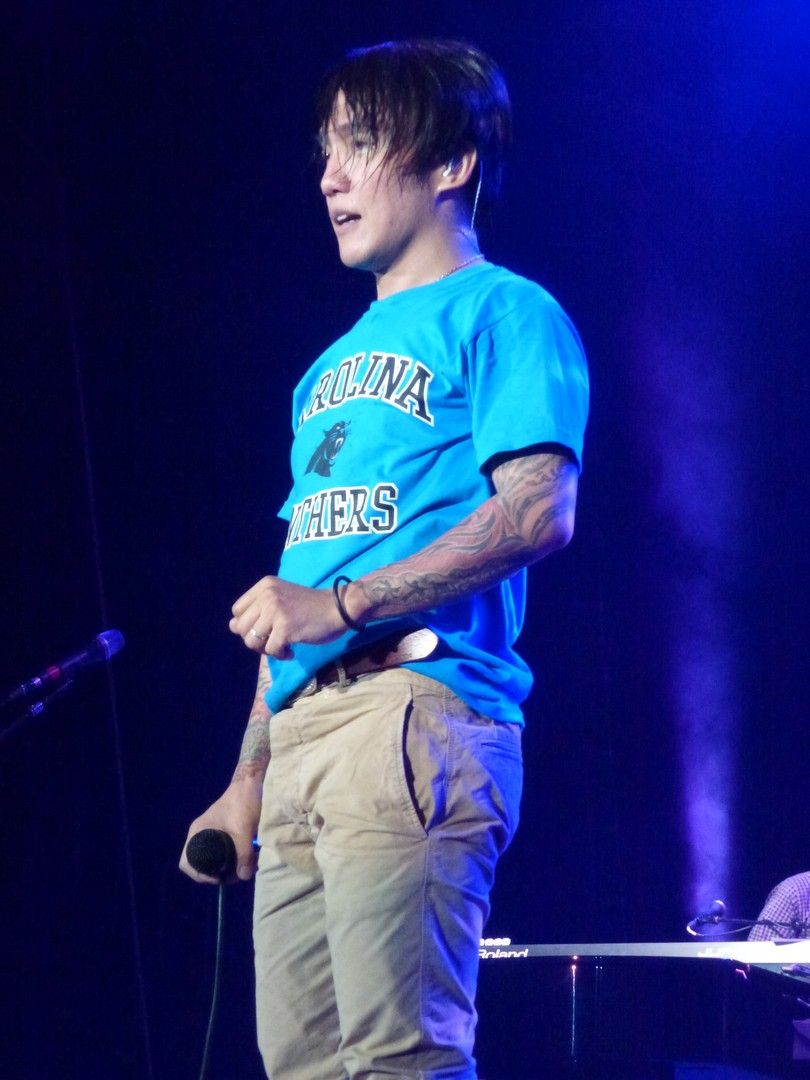 Arnel received and wore a Carolina Panther's shirt - that was fun.
Since I'm a big fan and was shooting a ton of pix, I have to note the good and could-be-better that night:
Arnel
pours his heart out into the performance every single time. He has a soaring powerful tenor that fills the venue -- how he gets that sound out of that compact body I'll never know. He hits those notes in chest and head voice -- no falsetto. And he excels at interaction with the fans (even signing a t-shirt during one of Neal's solos) throughout the evening, and covers the whole stage to shake hands and point to folks in the audience. He has never failed to entertain me.
Neal Schon
, who has a right to be jaded out there after all these years of performing, still looks like he enjoys playing to the crowd. The axe man didn't phone it in this night; I got a ton of great shots that show him on a variety of gear churning out great licks. There was not a lot of excessive noodling solos this time (something that was oddly distracting last year); he was back to giving us great melodic licks -- and did a great "Star Spangled Banner."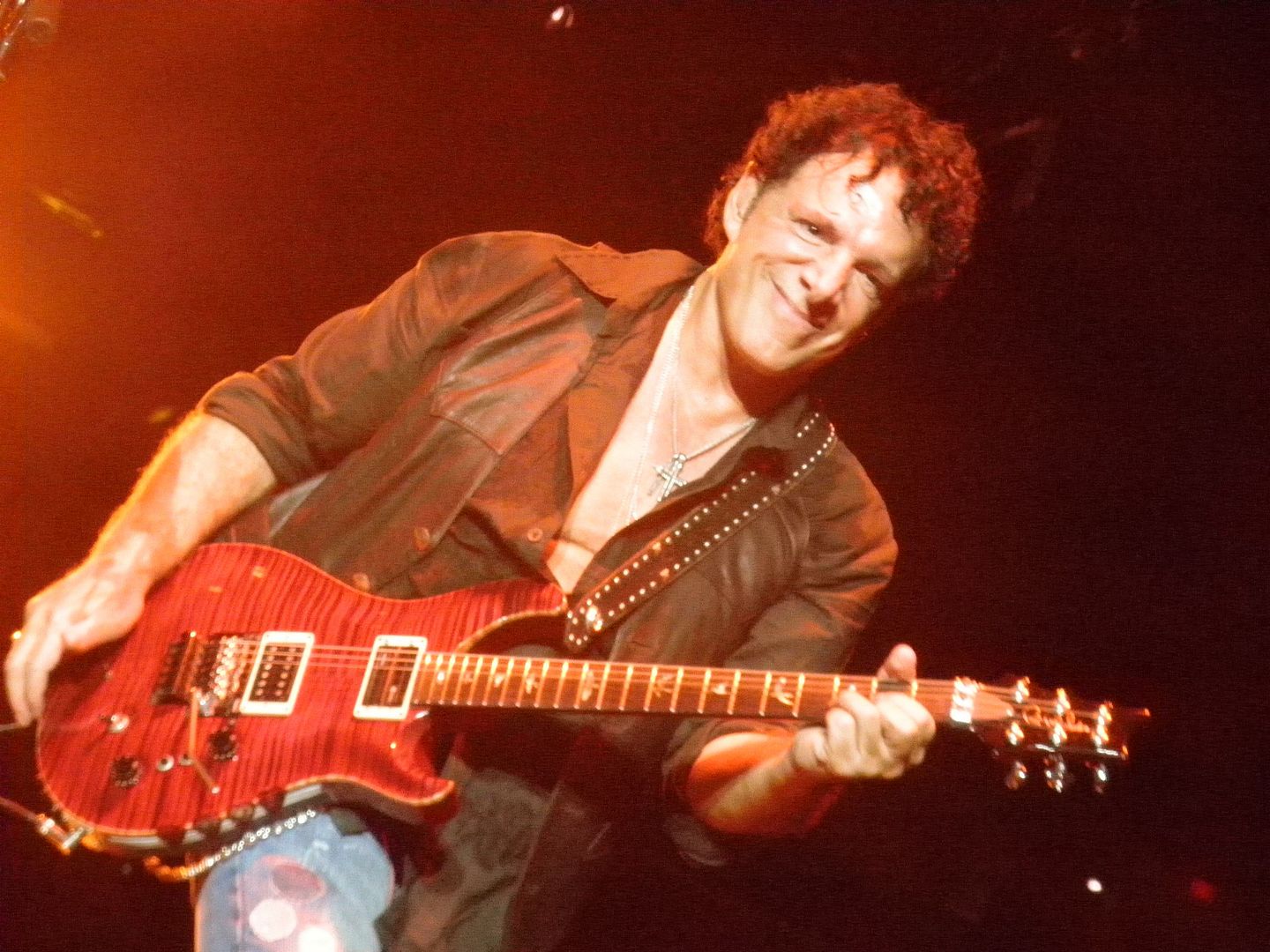 Jonathan Cain
-- someone needs to nudge the gifted singer-songwriter to
smile more
. I really had to work hard to capture photos when he didn't look overly serious or even bored at times, particularly when he stepped away from the keyboard to move center stage while playing guitar alongside bassist (and founding member of the band,
Ross Valory
, who looked a tad bored as well, but worked the stage well). Ross, by the way, is underrated; his work on several songs are the heart of the Journey sound -- Neal's solo on "Stone in Love" is epic, but listen to the equally stellar, bassline; it's been given "new life" in the remastered Greatest Hits 2.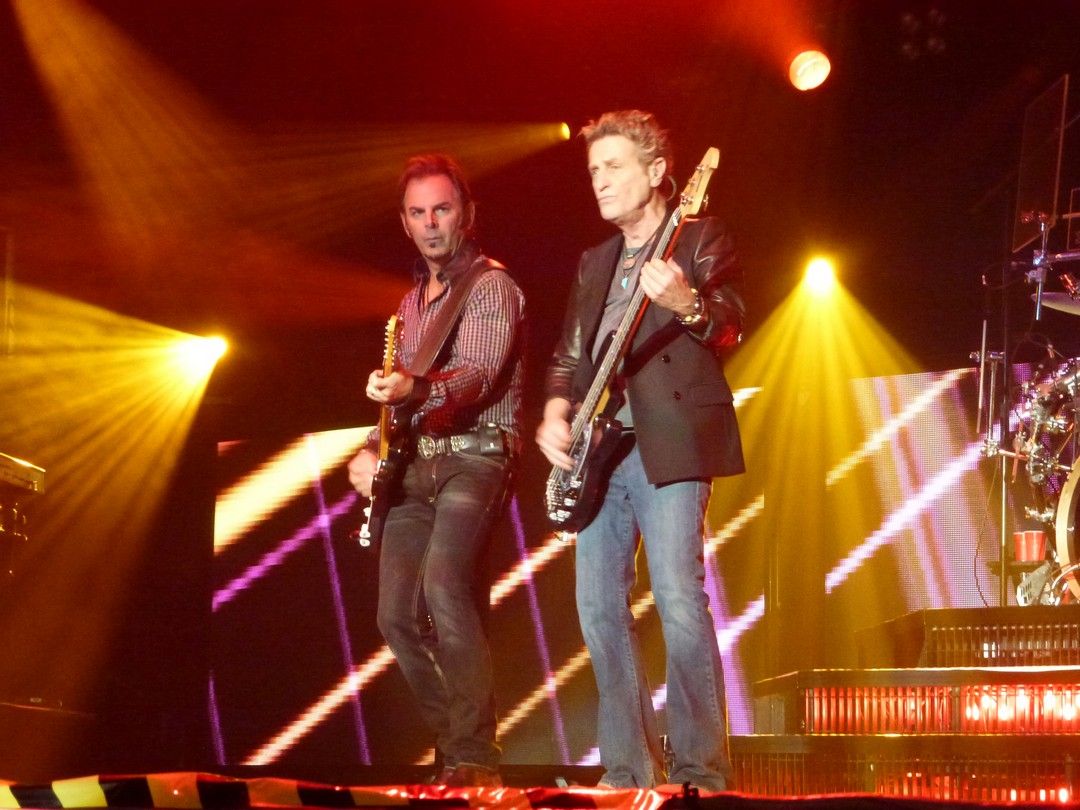 Almost a smile...
I met Jonathan Cain (who penned "Don't Stop Believing")
last year at a meet-and-greet
(see pic below) and he's a wonderful, warm guy, but on this night he seemed to phone it in.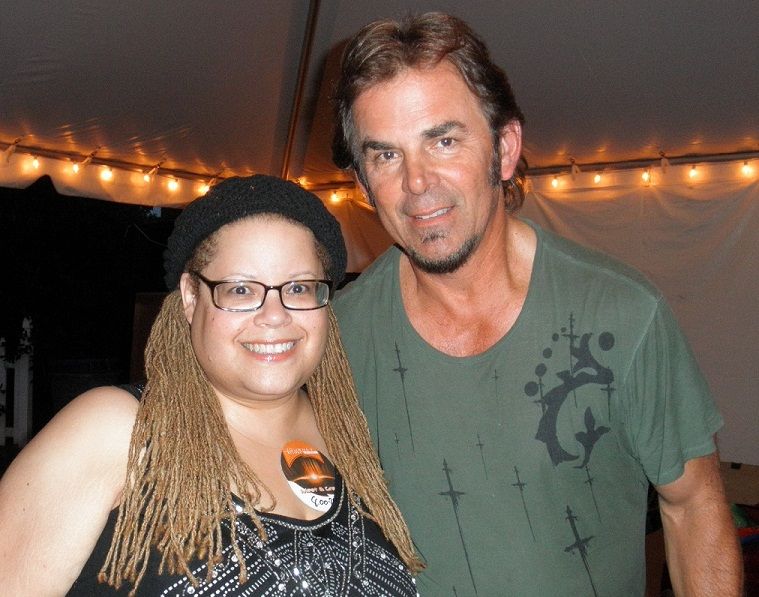 Deen Castronovo
- I don't know how the guy doesn't destroy his drum kit during a show he pounds so hard (imagine a cute human version of the Muppet's "Animal" - meant sompletely as a compliment; Deeno's spiked 'do just makes it even more apt!).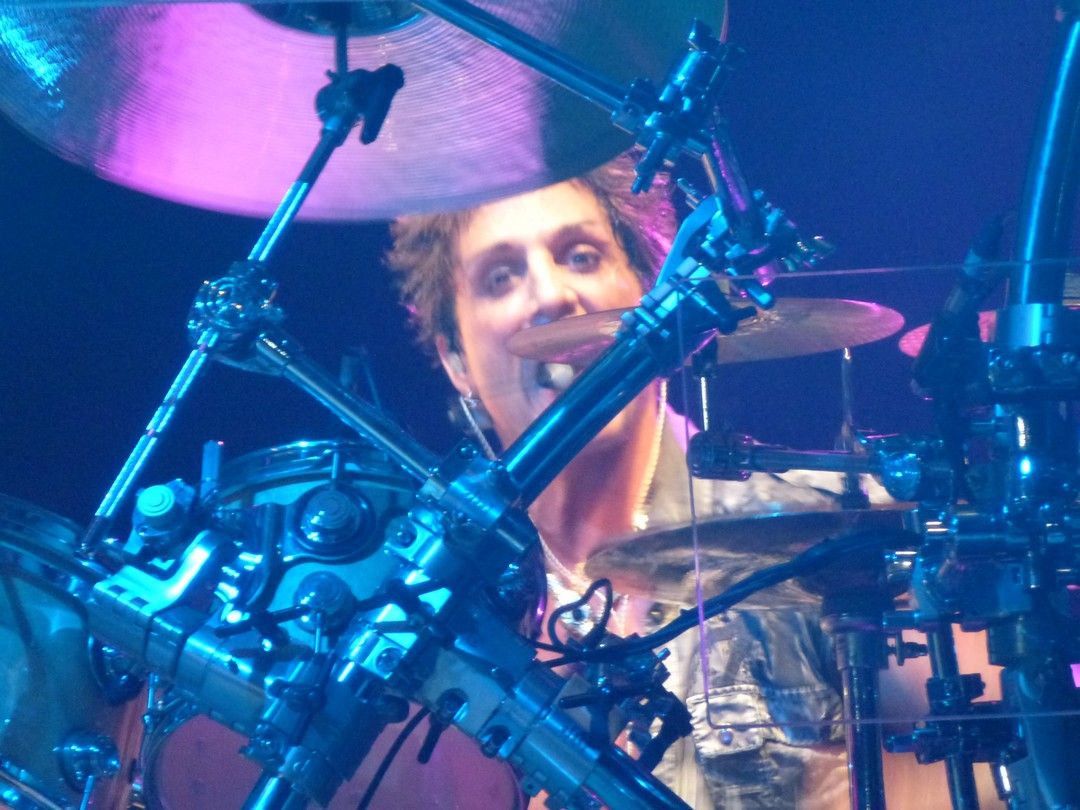 He always give it his all as well; he always looks like he's having a great time out there for fans. And as I said above, he's capable of some heavenly, emotive performances, particularly on Mother Father. I hope they keep his lead singing opportunities in the mix.
Another vid: Escape -- rocked the house!
They closed with Separate Ways and Lovin', Touchin' Squeezing. Last year they opened with SW, and since it's a hard, epic song, it plays better earlier rather than later for me. And LTS, well, it's one of those standards I wish they'd switch out for something fresh. But I understand; the band's playing for the majority of the folks there - some born long after the band formed, or newcomers to fandom, not the diehard gray hairs.
But it was a memorable night -- and I made it. Good times.
Wish list songs for another tour:
"Too Late" (Evolution)
"People and Places" (Departure)
"Stay Awhile" (Departure)
"One More" (Trial by Fire)
"Chain Reaction" (Frontiers)
"Anything Is Possible" (Eclipse)
And I received this Tweet from Arnel the next day:
A slideshow for you: